Rude telephone operators, lazy dentists and alcohol for cars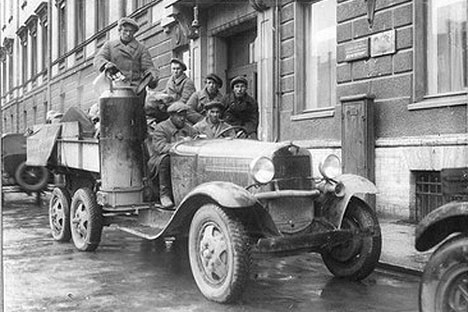 A lorry on a street of Imperial Petrograd, circa 1910
press photo
RBTH turns the clock back a century and shines a light on the now-forgotten stories being reported on the inside pages of Russian newspapers in 1915 and the events and processes occupying the minds of the Russians of the age. Travel back in time with us week by week for a sense of what life was like in the twilight days of the Russian Empire.
Student seamstresses
Two small rooms in an old wooden house. Four sewing machines. An ironing device, a small cast-iron stove for an iron. This is the whole furnishing of a special workshop opened by students yesterday for sewing warm underwear for soldiers on the frontline.
Last year, the students sewed fashionable dresses for ladies. Now they have chosen to earn less and switch to the manufacture of underwear for the troops. They study in turns; three sew and two go to lectures on one day – on the next day, vice versa. They live on their combined income.
Vecherneye Vremya, November 9, 1915
Alcohol fuel for cars
Following the cessation of the sale of alcoholic beverages and alcohol distilling, an enormous amount remains unused; there is a complete stagnation in this trade.
Having paid attention to these stocks of alcohol, the Ministry of Finance has found it desirable to use alcohol for technical needs. The Ministry will use treasury funds to organize the manufacturing and sale of a special alcohol mixture for use as fuel in car engines.
Alcohol motor fuel will consist of 90 parts alcohol, denatured in the usual way, and 10 parts gasoline. This new type of fuel will find wide application because of its relative cheapness compared to pure gasoline.
Vecherneye Vremya, November 10, 1915
Alexandrinsky Theater. A Turgenev production
The theater is packed, there is not a single free seat in the room. Despite the fact that both plays by Turgenev were already staged several times two or three years ago, the public is well-dressed and excited, as if it were a premiere.
Both the actors and the audience have grown up with Turgenev's drama, and after Chekhov, Turgenev does not seem a bad playwright. Both plays are now presented in more enlightened tones, not with realism, as previously.
Birzheviye Vedomosti, November 13, 1915
Day after day. Dentists
If every dentist practicing in our city pulled out at least one tooth a day, we would still be toothless. There are streets where dentists need to be counted in the dozens, and there are houses where several of them live at once.
In addition to treatment and extraction of teeth, these doctors are also involved in filling them. Sometimes, having drilled a tooth, the dentist refuses to complete the job – "Your tooth is not worth bothering. The filling will fall out soon anyway!" As a result, the distressed patient is left with a whistling tooth.
Chernozyom, November 14, 1915
Our telephone operators
Telephone operators behave unworthily. To call a number, you have to dial the central switchboard for at least five minutes. At last, you are connected, but... not with the right party. You hang up.
But you have to wait until you are disconnected for another five minutes. Thus, to reach the desired number, you need to spend about 10 minutes – and when you reproach the telephone operator for this abnormal phenomenon, you will hear nothing but rudeness in response.
Chernozyom, November 15, 1915
All rights reserved by Rossiyskaya Gazeta.