Asia-Pacific Digest: Sukhoi in Australia, and Thai-Russian bilateral trade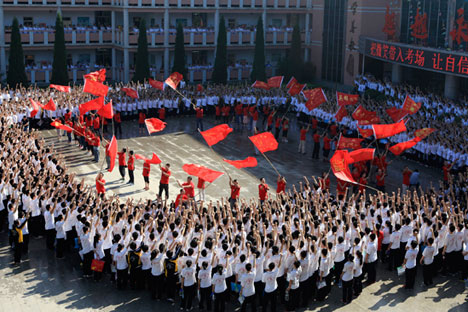 Students cheer as teachers wave flags before the students take their national college entrance exam in Hengshui, Hebei province, June 7, 2014. According to Xinhua News Agency, about 9.39 million students would take China's national college entrance exams or "gaokao" from June 7 to 8, which is a fiercely competitive test that is seen as make-or-break for getting ahead.
Reuters
Articles and features about Sukhoi in Australia, Thai-Russian bilateral trade were among the Asia-Pacific highlights of the week on rbth.com.
With the ultra-expensive F-35 experiencing embarrassing failures, Australia needs to look at the Su-35 Super Flanker for enhancing its air power in the years ahead.
Russia's will look for promote the Russian Far East as an investment destination at the upcoming East Asia Summit in Malaysia.

November 9, 2015
Sombat Thiratrakoolchai, President of the Thai-Russian Chamber of Commerce (TRCC) talks to RBTH about the potential for bilateral trade and two-way investment between Russia and Thailand.
Andrei Sidenko, who was awarded the Teacher of the Year prize in 2013, attempts to compare the Russian university entrance exam with its analogues in the United States (SAT), the United Kingdom (A-level) and China (Gaokao).
Aelita Andre, an 8-year old Australian painter with Russian roots, has become famous among the global art community for her Surrealist works.
All rights reserved by Rossiyskaya Gazeta.