Impressions of the train from Moscow to Chelyabinsk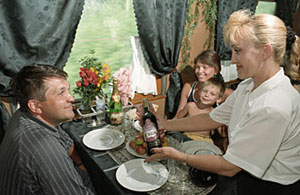 I go to Chelyabinsk, the large industrial city in the Urals. I take the train. The train is a convenient and inexpensive way to reconnect with the Soviet past, or an even deeper, tsarist past. The old world charm is partially gone now, but some nice features linger: the glass holders are still there, the first-class cars are lovely, and through the compartment window, one enjoys an ever-changing landscape of breathtaking and often absurd scenes. Every experienced train traveler has his own routine and set of rules. I developed mine:


First. Travel only first class. There are three types of cars in the Russian train: the "kupe" (quadruple), the luxury sleeping car (double) and the "platskart". Don't try the platskart unless you have to. Try to imagine a huge car divided into six-person sections with only two bathrooms per car and people eating, drinking cheap alcohol, babies screaming, people who traveled for many days without showering taking their shoes off... you get the picture. The luxury sleeping car, on the other hand, offers conservatively classy accommodation. It is six times as expensive as platzkart and twice the cost of a kupe.

Second. Try not to take trips that last longer than 30 hours. You get bored and a little dirty. There is only one shower on the train, in the chief conductor's car.

Third. Explore the train's dining car. This is the most sacred place on the train. The restaurant car is one of the few remaining Soviet archetypes. Another good thing about today's dining cars is that they have not been renovated since the 1980s, so you can admire the original design. By the way, you will probably be waited on by a very young and good-looking waitress wearing a lot of cheap makeup.

Fourth. Drink lots of tea. On the train you will encounter a real Russian tea ceremony: unlimited tea is included in the price of the ticket and the conductors will be more than happy to bring the tea to your compartment. But in the end, the rain ride is not about the food. It is really a meditation, a unique state of mind you sink into. You go from city to city while the sun and the moon move around your compartment and at night you sleep without really sleeping, listening to the pulse of the tracks beneath you. www.readrussia.com
All rights reserved by Rossiyskaya Gazeta.