ASEAN: Collective security is the long-term aim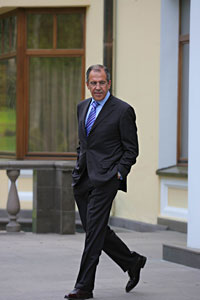 A conference of Foreign Ministers from Russia and ASEAN (Association of Southeast Asian Nations) was held this month in the Philippines.
The regular Russia-ASEAN meeting in the Philippines was constructive and discussed concrete topics [Sergey Lavrov reports]. We have made progress in carrying out our agreement with ASEAN on economic development. We have also created mechanisms for co-operation in our efforts to counter international terrorism, prepare for and respond to natural disasters, pursue energy security and develop science, technology, culture and tourism.

To monitor the implementation of our agreements to date, we have decided to draft a programme of specific goals and a timeframe for achieving them.

We have now selected the first six projects for the Russia-ASEAN partnership fund. One of them involves the establishment of an ASEAN training and research centre under the auspices of the Moscow MGIMO University.

We have discussed conceptual approaches to international problems and found that we see eye to eye with ASEAN members. We both believe in the primacy of international law in settling conflicts, be they in Iraq, Afghanistan, the Balkans, the Middle East or Iran.

I would like to map out prospects for our co- operation in countering terrorism. We have made practical achievements in this sphere, including setting up direct contacts between the departments involved and a system for sharing information. Our partners would like us to help them train personnel and equip the agencies involved in counterterrorist activities.

There are two centers in the ASEAN engaged in various aspects of the fight against terrorism, and Russia has relations with both.

I believe that ASEAN will establish similar contacts with the Shanghai Cooperation Organisation and the Commonwealth of Independent States.

In the foreseeable future, the Asia-Pacific region, including the Russian Far East, will be the fastest growing part of the world and the one most attractive to investors. This is where we can make the best possible use of our combined potential. Both we and our partners think the same on this score.

We have a programme for the long-term development of the Far East and Eastern Siberia, while the ASEAN countries are planning to set up an economic community that will raise them to a new level of integration.
Our partnership with ASEAN is based on financial benefits and economic interdependence. We have not yet achieved the latter, but it will take shape and gain momentum as we develop our Far East relations, and ASEAN countries continue their integration.

On bilateral level, I had constructive meetings with my Australian and Indonesian counterparts, primarily in the run-up to President Vladimir Putin's visit to these countries in September. There is every reason to hope that both visits will yield a sizable package of specific agreements. I also met my Indian and Chinese counterparts. We agreed to hold another trilateral meeting of the Foreign Ministers.

In the near future, Moscow will play host to a working group on security in northeast Asia. We hope that it will be a success and that we will be able to apply its experience to other international forums. The Philippines, Indonesia, Thailand, Cambodia, Laos and Vietnam are all interested in a nuclear-free North Korea. The very name of the subject - Northeast Asian security - allows us to draw from the positive experience of the six-party negotiations and to involve other countries in the process. Later, this may develop into a collective- security organisation. That is our long-term objective.
An Oriental love story
Dmitry Kosyrev, political columnist RIA NOVOSTI

ASEAN, a grouping of 10 Asian nations, presents a dilemma for Russian foreign policy. So far, Russia-ASEAN relations have been a political love story. But that love seems too platonic for Russia's liking, as it is devoid of any material foundation - in other words, trade.

That is the basic background to the optimistic statements Sergei Lavrov made in Manila. The oft-touted comparison of ASEAN and the EU produces a paradox from the point of view of Russia's foreign policy. One half of Russia's foreign trade is with the EU while Russia-ASEAN trade is a negligible $5bn. Yet these two are best of friends. To take one example, Lavrov returned from Manila bearing news of the scrapping of visa requirements for Russians in yet another country - the Philippines. Russians now cross many ASEAN borders with only a quick stamp in the passport.

But there is also such a thing as ASEAN business pragmatism. The 10 nations may disagree with the US on many matters, but they heartily agree with US-ASEAN trade, which amounts to $168bn. Not a consumer-goods exporting nation, Russia is strong where oil, gas, nuclear energy and related technologies are concerned.

But these are irrelevant to its trade with ASEAN, which is too far away for a pipeline.

ASEAN gives Russia a good chance to develop its non-energy - related exports. But that is a long way off, and friendly political ties do not guarantee they will succeed.

Find more at www.mid.ru Russia's Foreign Ministry website
All rights reserved by Rossiyskaya Gazeta.