Graduation Party at British Embassy in Moscow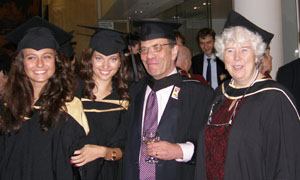 The British Embassy in Moscow hosted a party for 75 graduates of the International College of Economics and Finance (ICEF). HM Ambassador Sir Anthony Brenton presented each of them with two diplomas.

The International College of Economics and Finance was set up ten years ago as a joint venture between the State University Higher School of Economics (SU-HSE) and the London School of Economics and Political Science (LSE). The college offers bilingual courses leading to dual qualifications under the Russo-British double degree programme.

The programme combines the best elements of the Russian and British academic traditions. At the end of their first year, students pass graduation tests, which double as entrance exams to London University (LSE is part of London University.)

The four-year course is based on an integrated tuition plan and teaching is in both Russian and English, without the need to leave Russia. Written tests, which the students sit in Moscow, are sent to London. Experienced tutors from both SU-HSE and LSE assess the results.


Graduates receive a BE diploma from SU-HSE and a bachelor's degree in banking and finance, economics and management, or economics from London University - not to mention fluent English.
This year, with the help of their British colleagues, ICEF introduced a master's degree in financial economics.
All rights reserved by Rossiyskaya Gazeta.