Russians Choose High Living Standards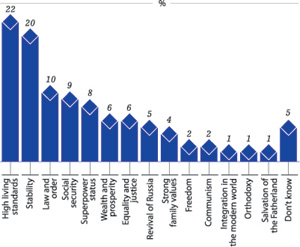 Ongoing debates in Russia over the kind of common ideals that would serve to pull the country together. Ideas range from the revival of the monarchy to the promotion of Orthodoxy and the restoration of Russia's former superpower status.

Slogans include "God, Fatherland and Orthodoxy" (an updated version of the 1917 pre-revolutionary trinity "God, Tsar and Fatherland") and "Russia, a superpower!"

A recent survey by the Levada Centre, a polling agency and think tank, sought to find out what Russians think about this issue.

Those interviewed were invited to answer the following question:

Which of the following ideas could unite Russia's present-day society?

- high living standards;
- stability;
- law and order;
- social security;
- superpower status;
- something else;
- don't know.

About 22% of respondents chose high living standards as the ideal around which the Russian nation could unite - twice the percentage posted in a similar 1998 survey. Over the past decade, the rating of social security as a unifying idea has risen from 6% to 9% and that of wealth and prosperity has climbed to 6%, up from 4%. Family values have also grown in popularity as a possible nation-bonding concept, up from 1% to 4%.

Other, more conservative, ideals have suffered. Stability and superpower status have dropped 2% each; the saving of the Fatherland has fallen by 3%; law and order, by 4%; and national revival, by 5%.

2% of respondents think that Russians could be united by communist ideals.
All rights reserved by Rossiyskaya Gazeta.