Young Students are Excited for an Unprecedented Teaching Program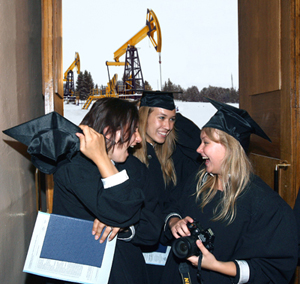 An institute which diploma guarantees a promising career is located in a prestigious neighborhood of Southwest Moscow. It is Europe's only International Institute for Energy Policy and Diplomacy (MIEP).
Established in 2000, the institute trains specialists for a new sphere of international relations: energy diplomacy.

"At the turn of the 21st century, energy became a crucial factor in global development, economics, politics and diplomacy. The key issues are energy security, the search for alternative fuels, mankind's desire for technological progress, and an acute need to preserve the environment," said Professor Valery Salygin, the institute's director and an associate member of the Russian Academy of Sciences. "It takes top-grade experts to address these problems and innovative courses on all aspects of power generation, international energy cooperation and energy security to train such experts."

Salygin said that more than 500 students from 36 Russian regions and 19 other countries are studying for their bachelor's, master's and postgraduate degrees at the institute. They major in five specialties: international business law, the global economy, finance and credit, international management and public relations.

The students can also attend one or several of the 53 foreign language courses at the institute's specialized language center, which also offers training in the professional language of energy diplomacy and the international oil and gas business.

Government agencies and leading companies immediately offered the institute's first graduates jobs dealing with Europe, America, the Asia-Pacific region, the Middle East and the Commonwealth of Independent States.

The tasks assigned to the institute are so important that a Supervisory Council has been established to monitor its progress. It is chaired by Foreign Minister Sergei Lavrov and consists of the heads of ten Russian regions with highly developed energy sectors, and the leaders of 30 major Russian oil, gas and energy companies.

The Supervisory Council finds jobs for the institute's graduates at major Russian and international energy corporations, and at state-controlled international agencies and departments.

Salygin said that MIEP, as part of the global system of education, is working to promote cooperation with leading foreign universities and training centers, and with the Human Resources departments of major oil, gas and energy companies, primarily those that are connected with the Russian market.

"This gives our students an opportunity to take part in international master's programs, hear lectures by famous European scientists, politicians and experts, and obtain onsite training at foreign companies," the director said.

He believes that success in major international energy projects, such as the North European gas pipeline, the Shtokman gas condensate project, and the development of Caspian and East Siberian deposits, directly depends on the educational standards of personnel.

This is why the Russian authorities are closely monitoring the work of the International Institute for Energy Policy and Diplomacy.


Russian Energy Production for the First 8 Months of 2007: Facts and Figures

Russia's Ministry of Energy and Industry and Federal Customs Service reported the production of primary fuel and energy resources at 1,183.4 million metric tons of conventional fuel in January through August, 101.3% of the same period last year. The production of oil in this period increased by 2.6% and the production of coal by 0.3%. Electricity generation at hydropower plants went up 10% and at nuclear power plants, 2.6%. Gas production decreased by 0.9%.

Oil

The production of oil and gas condensate totalled 326.62 million metric tons. Russia exported 146.04 million metric tons of oil to non-CIS and Baltic countries and 24.54 million metric tons to the CIS.

Gas

The production of gas amounted to 429.11 billion cubic meters (bcm). Gas exports to countries outside the CIS and to the Baltics reached 93.36 bcm, and exports to the CIS totalled 25.88 bcm.

Coal

Russia produced 199.86 million metric tons of coal in the reporting period. It exported 57.27 million metric tons of coal to non-CIS countries and 7.38 million metric tons to the CIS.

Electricity

Electricity production rose to 653.58 billion kilowatt hours, including 421.9 billion KWh generated at thermal power plants, 126.88 billion KWh generated at hydropower plants, and 104.5 billion KWh generated at nuclear power plants.
All rights reserved by Rossiyskaya Gazeta.