Migrant Workers: What are the Consequences?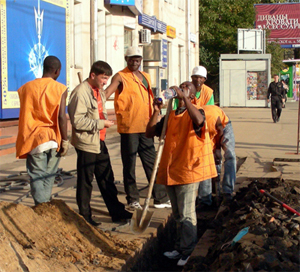 Between 10 and 12 million immigrants work in Russia, only three million of them legally. While foreign labor is increasingly used to fill skill gaps in Russia's expanding economy, to what extent is this at the expense of the native Russian population?

One legacy of the USSR is Russia's large migrant workforce. Today, as many as 80 percent of its migrant workers come from former Soviet republics, mainly Ukraine, Uzbekistan, Tajikistan and Kyrgyzstan.

Of the outside "suppliers," only Turkey and China provide comparable numbers.

Low-skilled guest workers are - as elsewhere in the world - employed in trade, housing and communal industry, agriculture, public services and service sector, and construction. But a notable recent trend has also been the increase in the percentage of highly skilled immigrants.

According to Vyacheslav Postavnin, Deputy Director of the Federal Migration Service, this is mainly due to the growing number of large-scale housing and oil and gas projects in Russia and the shortage of locally-trained specialists.

"Over the years of radical reform in Russia the country has practically destroyed its system of vocational training," he said, "and many employers are facing a situation where they cannot find skilled workers even for high wages.

"They have to be invited from abroad. At international projects on Sakhalin, for example, Filipinos work as gas and electric welders."

In Postavnin's view, there can be no precise figure for the current demand for migrant workers in Russia today, but the fact that practically all new arrivals find employment is revealing in itself.

There is also the fact that the market still needs to be streamlined and legalized. The new immigration legislation, enforced on January 15, 2007, was a major step in this direction. Now immigrants no longer need to stand in long lines for registration.

Instead, they may send a letter of notification to the agency within 10 days of entering the country. The new laws stipulate that all employers signing labor or civil contracts with foreign workers must notify the local division of the Federal Immigration Service within 10 days. They must also provide information about the trade or profession, qualifications and length of service of foreign workers, their passport data, as well as the duration of the contracts signed with them. The work permit is effective for 12 months and can be extended.

This year Russia introduced a quota (six million) for labor immigrants from the former Soviet republics, who do not need a visa to come to Russia.

The Federal Immigration Service believes that the labor quota and transition from permit applications to notification letters will reduce the number of illegal immigrants.

However, experts say that if all the immigrants in Russia were working legally the state budget would have received an extra several billion rubles.

They also note that current measures against illegal immigration to Russia are not sufficient. The country can only effectively deal with the problem, it is argued, through the coordination of economic policy, administrative regulation, and law enforcement.
All rights reserved by Rossiyskaya Gazeta.