Russia Looks Back at Stalin's Tyranny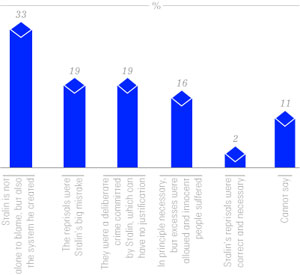 For Russians, 2007 is the year of two notorious anniversaries: the 90th anniversary of the Bolshevik Revolution and the 70th anniversary of the start of the Great Terror. The All-Russia Public Opinion Research Center (VTsIOM) conducted a survey to see what our contemporaries remember about it.

What do Russians today think about Stalin's reprisals?

The year 1937 symbolizes mass reprisals for 47 percent of the respondents. An average 20 percent had victims of reprisals in their families. As many as 36 percent estimate the human toll of the terror at several million, 20 percent at several hundred thousand, 13 percent at several tens of millions, and 4 percent at several tens of thousands. The figure of several million dominates in all age groups.

Only 2 percent approve of the reprisals. As many as 16 percent believe they were necessary to fight the opposition in Stalin's time, though the matter was carried too far and hit many innocent people. Over 19 percent describe the tragedy of 1937 as "Stalin's great error," and another 19 percent as his premeditated crime. A third (33 percent) say the terror was inevitable under the Stalinist regime.
All rights reserved by Rossiyskaya Gazeta.