Russian Tennis Headed for Success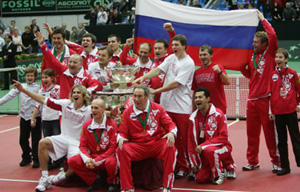 A member of the IOC, President of the Russian Tennis Federation, Captain of the men's and women's national teams and Chairman of the Board of Directors of the Kremlin Cup Tennis Tournament, Shamil Tarpishchev is a real magician: he can turn even mediocre children into champions and he has turned tennis, until recently thought to be a sport of the elite in Russia, into a very popular sport.

Both the Russian men's and women's teams have the top rating in the world today. You have presided over the national team winning three Federation Cups and two Davis Cups. How do you account for such spectacular performance?

It just happened that today our methods of training kids under 14 are the best in the world. Why? Not because we are so good, but simply because the world had no need to develop them and we had. In America, for example, 2,000 children took part in their national championship. In the Soviet Union there were just 24 participants. In other words, only the best, number one and number two, from each republic and each region made it. And yet at that age the most talented kids are usually number five or six. Speed, for example, does not develop until the children are 7 to 9 years old. Only one in 25,000 children is endowed with speed and endurance from birth, and has these qualities in his or her genes. And who trains children ages 7 to 9 for speed? No one does that in any other sport, except us.

You are probably often asked why Russian women tennis players do better than men. Some attribute this to Anna Kurnikova, who has shown that tennis can make you beautiful and rich.

That is not a simple question to answer. As a matter of fact, girls are easier to train than boys. First, girls are more amenable than boys. A boy can be stubborn and you need time to establish rapport with him. Second, training is cheaper. Girls start playing and if they don't make it to the elite, the top hundred for example, they quit early. They get married. And if they continue to play and stay below the top hundred they retire at 25-26. If a boy starts playing professional tennis he usually stays in it until he is 32. Also, the rallies are faster in men's tennis than in women's. It is 25-26 hits a minute with girls and 27-28 with boys. So, any boy can make a good sparring partner for a girl. Training a woman tennis player costs up to $50,000 a year and training a man costs $70-80,000.

It is no secret that almost all the Russian tennis players train abroad.

Yes, but none of the leading players has gone abroad before he or she was 14. And it is between 6 and 14 that a future athlete is formed. Of course, the process continues beyond that age. Endurance and concentration are trained until 16 and psychological training continues until from 18 to 19. Last year, 360 Russian kids played in 56 countries. If that army of 14-year-olds were to stay in Russia we wouldn't have the next generation of tennis players. I would gladly have sent all our children to all the academies in the world to have the whole world work for us. We have a well-established system of competitions with teenagers under 16. We hold a thousand tournaments every year involving more than 8 000 children. Forty three of these are international. More than 52 000 kids are regular tennis players.

But problems arise after the age of 16. The costs of training increase considerably. The world seems to be divided: the kids are trained in our country and young men and women are trained abroad. Throughout the history of Russian tennis, none of our athletes have stayed abroad. They all play for Russia.

What are the chances of the Russian men in the Davis Cup Final in the U.S.?

The Americans have better chances. I rate our chances at 40%. Dmitry Tursunov can do well on a fast court. I know that James Blake is afraid of him, and they have never played against each other before. If you look at the head-to-head results of others, Mikhail Yuzhny leads Andy Roddick by 2:1. The only Russian team member who has a negative balance with the Americans is Nikolai Davydenko, 0:4 against Roddick and 0:6 against Blake. Others are scraping by. Marat Safin can do well if he is prepared. So we have several options (except in the doubles match: the American Bryan brothers are a very strong pair).

As captain of the national team do you often have to step in to sort out personal conflicts?

Tennis is an individual sport and there is always a more or less obvious leader on the team. I was lucky because I spent two years studying the psychology of stress in sport. I became captain in 1974, so I have a lot of experience handling players.

Do Russian women players have any problems in their relations with Maria Sharapova, who lives in Florida?

The situation with Sharapova is very simple. She has never had any conflict with any tennis players. The conflicts were between parents and they blew up around Sharapova. The Federation Cup Final was played in Moscow in the autumn. I was pleased: she had to make an appearance in Russia and be part of the team. She agreed: "I'll come." And she did.

Tournaments among amateurs, prominent personalities and politicians, have become very popular in the world.

You know, a long time ago we visited the U.S. The Soviet Ambassador there at the time was Oleg Troyanovsky, a very keen amateur tennis player. He always waited for us, and took us to all the tournaments among diplomats. The tennis court is an ideal place for resolving problems. Besides, it is fun, it is recreation. Our sport is unique because you don't need a lot of people, like in football. All you have to do is find a partner of approximately equal strength and you can enjoy yourself on the tennis court.

Boris Yeltsin, the first Russian President, used to say that tennis is the only sport that can "take his mind off things." It is just you and the ball, and all your thoughts are on how to hit it. I remember just one occasion when the trick didn't work for Yeltsin. That was when the State Duma started impeachment proceedings against him. Yeltsin and I went on court and played. Afterwards he told me: "Shamil, it's the first time I didn't unwind during a game of tennis."

They say tennis brings out a person's personality and habits. What was Yeltsin like on court?

He had an amazing quality, a strength that characterizes professional athletes and politicians. He had a capacity to mobilize his nervous system. The worse the situation on court for him, the better he played. It is his opponent's "advantage," and yet he takes risks and he gets the ball in.

How did you make tennis your main occupation in life?

I started playing bandy, and then football. But I had a ligament rupture, and when I came home my mother forbade me to play football. Later I took up tennis, but only because they used to play football after the end of the training session.

You once let it slip that you wanted to be a children's coach.

This is my vocation. I have always known how to handle children. It is simple: if children want a coach to train them it means he is a real children's coach. If they are reluctant or afraid, it means he or she shouldn't be training children.

Do you get along well with your sons?

There were some problems with the elder son Amir, but that is all in the past. He is 19 years old now and studies at an American college in Moscow. I have no problems with my younger son, Filipp. He is 13 and he plays tennis. Speaking of tennis, Amir was very talented. He was very fast and had stamina. But unfortunately he was unmotivated. The younger is not so talented, but he is very hard-working. He can't imagine his life without tennis.

You have played with many famous people. Is there any story that sticks out in your memory?

I remember playing with Jack Nicholson. It so happened that I occupied his parking place at a Los Angeles stadium. And when I came out on court I was told: No, you can't use it, this is Jack Nicholson's court. There was a notice there. "When did he last play here?" I asked. "Two months ago." "Do you think he will show up today?" And - surprise, surprise - he showed up within minutes. We had a good laugh together and a good game. In general, tennis is an amazing sport. It's a whole different world, it's a way of life. Besides, you can relax and enjoy yourself all year round no matter where you are. Unlike other activities, you don't need mountains or water.
All rights reserved by Rossiyskaya Gazeta.