Web-portal on foreign media wins internet award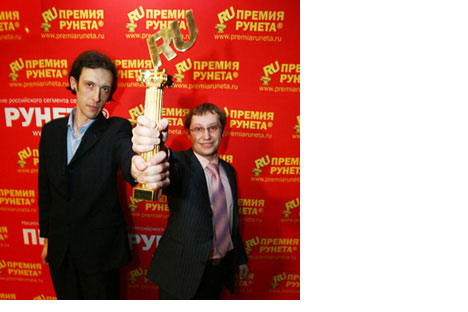 The InoSMI Internet project, which publishes foreign media articles translated into Russian, was a winner at the Runet Award-2007.
The competition, which acknowledges contributions to the development of Russia's Web segment, was created by the Federal Agency for Print and Mass Media.

InoSMI won an award in the culture and mass media category.

The project's website, launched by the RIA Novosti news agency in February 2004, has visitors from Russia, the former Soviet republics and other countries.

Commenting after the awards ceremony, InoSMI editor in chief Yaroslav Ognev said that the idea initially seemed risky, as it had been decided that the site should translate and publish materials that are interesting and not banal.

Strictly speaking, such material is not predominant in international media.

However, due to hard work and dedication, the site has become very popular with Russian readers and also with visitors from foreign countries.

Today, InoSmi is getting between 70,000 and 90,000 hits every day - a high figure for a serious Russian news site.

InoSMI had previously received the information web-site of the year award from the EZhE International Union of Internet Professionals.

Now its role in the development of the Russian internet has been officially certified with the prestigious Runet Award, Yaroslav Ognev said.

Colleagues about InoSMI

Stepan Yeremin, executive director of Poiskovye Tekhnologii (Search Engines), says that InoSMI gives readers a chance to hear the other side, and also helps them to formulate a civic stance. "InoSMI makes it possible for Russians to look at an event from different angles, and can influence their civic stance."

Gisbert Mrozek, chief editor of German-language online newspaper about Russia, Aktuell.ru, says InoSMI could be useful not only as a source of information, but also as a kind of mirror to check one's views. "It is always interesting to look at yourself from the side, even if in a distorted mirror," he believes. "It is said that truth is born in arguments, so both firmly positive and starkly negative views and opinions published on the InoSMI site are equally useful."
All rights reserved by Rossiyskaya Gazeta.