Medvedev is a candidate, not yet a successor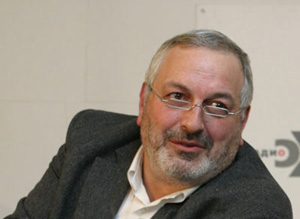 The main question in Russian politics in the last few months has been answered - four parties, two of which (United Russia and Just Russia) have an overwhelming majority in the future Duma, have announced their presidential nominee.

He is First Deputy Prime Minister Dmitry Medvedev, and his candidacy was approved by Vladimir Putin. "I have known him for more than 17 years and fully support his nomination," said the Russian President at a meeting with representatives of the four parties. This nomination will be endorsed at party congresses before the end of December.

Should Medvedev be proclaimed Russia's next President today? That would be premature.

First, in addition to opposition self-nominees (former Prime Minister Mikhail Kasyanov, ex-world chess champion Garry Kasparov, to name but two), another official candidate may be nominated. At any rate, Putin himself has repeatedly renounced the term "successor", insisting that there are many candidates. But this is not the main point, even if Medvedev does become the next President. Another crucial question has not yet been resolved: What will be Putin's political destiny?

Guesswork is counterproductive. It seems that Putin himself would not mind leaving big politics. He could go into business. But Russian political realities prevent him from leaving politics once and for all because the system of power, which he has built, may not withstand the blow.

We should probably bear in mind the option which has recently surfaced of an official formation of a new Union State of Russia and Belarus. In this case, there is no need to change the constitution - it is enough to sign a supra-government constitutional act introducing the position of the Union State's President.

But this is guesswork and few predictions justify themselves when it comes to Putin.

As for Medvedev, he has two major advantages. First, he is part of Putin's team and the head of the main component of the Putin's plan - national projects. And he has proved his loyalty to Putin for many years. Second, Medvedev has a stable reputation of a liberal in the Kremlin. He has demonstrated this on at least two occasions - when he opposed extreme measures against Mikhail Khodorkovsky, and when he criticised the notion of "sovereign democracy".

To sum up, Medvedev is largely a compromise figure. He can suit and reconcile both the liberals that suffered a crushing defeat in the parliamentary elections, and the proponents of further consolidation of political power.

Fact: Stock market surged on successor news

The news that Russian President Vladimir Putin named First Vice Premier Dmitry Medvedev as his favorite potential successor fueled the market. Gazprom, where Medvedev chairs the BOD, soared 3 percent to lead the growth.
All rights reserved by Rossiyskaya Gazeta.