What career ambitions do young people have?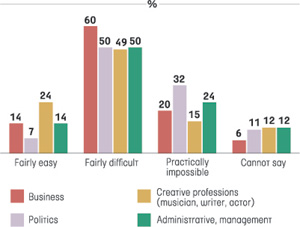 VTsIOM conducted a poll on November 10-11, 2007. A total of 1,600 people aged between 18 and 35 were surveyed in 153 towns and cities in 46 Russian regions. The statistical margin of error does not exceed 3.4pc.

According to a poll conducted by the All-Russia Public Opinion Research Centre, VTSIOM, young Russians overwhelmingly rank good connections (59pc) and good training and qualifications (54pc) as the necessities for career success.

They also believed they would need rich parents (39pc), talent and exceptional ability (35pc), to live in a big city (26pc), and luck (13pc).

Young people believe it is easiest to succeed in the creative professions (24pc). Considered more challenging are business and management (14pc each), and politics (7pc).

In assessing their chances of becoming successful in their chosen careers, young people in Moscow and St Petersburg were the most optimistic, and young people in small towns and villages were the least optimistic.

The VTSIOM poll was conducted on November 10 and 11, 2007, and sampled 1,600 people from 153 cities and villages in 46 regions, territories and republics across Russia. The poll has a margin of error of 3.4pc.
All rights reserved by Rossiyskaya Gazeta.