Poll: Political Climate Good, but Corruption Persists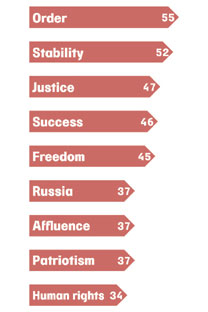 The Russian business community is optimistic about growth prospects and trusts the president, but is unhappy with corruption, administrative barriers and poor enforcement of property rights.

A December 2007 VTsIOM Research Center poll, conducted among 1200 businesspeople in 40 Russian regions, showed that businesspeople were optimistic about prospects for growth, but unhappy with the level of corruption in Russia.

Fifty-four percent of respondents assessed their own business as doing well. This figure was 30 percent for those operating large businesses, 50 percent in the medium business category and 20 percent among owners of small businesses.

However, a majority of the respondents (63 percent) complained that the environment in Russia was not entirely business-friendly. The most popular reason for this response was attributed to obstacles to establishing a new firm. They complained that the costs of registering a new company were too high and bureaucracy too complicated. Respondents also blamed low confidence on the relationship of some authorities toward business. They reported that many officials treat businesses exclusively as a source of personal income, or, at best, as a "junior partner." Businesspeople were consistent in describing corruption among government officials as a major problem (56 percent), though they also mentioned foul play on the part of other businesses (60 percent).

According to the VTsIOM poll, corruption is highest among law enforcement bodies (43 percent), followed closely by local governments (39 percent) and local branches of the Federal Tax Service, the Federal Anti-Monopoly Service, the Health Inspector's Office and the Fire Marshal's Bureau (33 percent).

Surprisingly, none of these problems prevented the business community from assessing the current political environment as comfortable. Businesspeople largely supported current government policy, with the president enjoying a high level of trust (50 percent).
All rights reserved by Rossiyskaya Gazeta.