We are ready for the breakthrough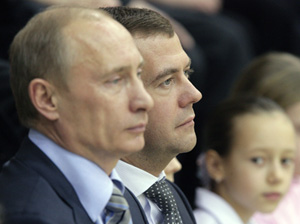 President Putin recently gave a speech to the State Council, an advisory body to the head of state. He promised to bring about a dramatic improvement in the country by transforming the economy, further emphasising the importance of reforming the social, political and demographic spheres. Putin's speech was the speech of a future Prime Minister, and not of an outgoing President.
The economics of innovation

The economic aspect of the plan focuses on diversifying the nation's economy away from its dependence on raw materials. Despite some success in this regard during Putin's two terms as President, the country is still largely dependent on exporting oil and gas. Perhaps most troubling are low levels of worker productivity and high inflation.

Although Putin stressed that there is nothing inherently wrong with the growth of energy and commodity production, he admitted that efforts to modernise the economy and incorporate new technologies - even into the energy sector - have been half-hearted. This is especially worrying given the favourable global economic environment of the last eight years.

Putin therefore singled out building up a modern energy sector and creating hi-tech companies that would extract and process raw materials as the country's main priority.

He argued that the only viable alternative to being a mere supplier of raw materials to the rest of the world is innovation-driven development that would utilise Russia's key competitive advantage: human capital. Given the population's high level of education (Russia has a higher percentage of college graduates than the United States), the nation's economy should make use of people's knowledge and skills and apply them to new technologies.

Putin argued that this should be the primary driver of economic growth, which, in turn, should lead to a healthier civil society.

The President acknowledged the difficulty of fundamentally reforming the nation's economy and reorienting it toward developing human capital and high technologies. Currently, Russia lacks the basic infrastructure for innovation-led development. However, Putin emphasised that there were no realistic options to reducing Russia's dependency on oil and gas. He called on the state, businesses and society to work together in developing this strategy.

RBTH COMMENT: the Russian government has been working on and discussing Plan-2020 since 2006. Three scenarios have emerged. Under the first, Russia will gradually fritter away its raw materials. Under the second, the fuel and energy sector will develop while all the other sectors stagnate.

The third and most optimistic scenario is "innovation-driven": the economy will sprout new sectors, partly financed by oil and gas revenues. It envisages investments in science and technologies, both by the state and private sector.

Investing in human capital

Putin elaborated on his economic policy by asserting the need to boost labour productivity. He outlined a plan to quadruple the figure in the primary sectors of the economy by 2020.

On Russia's economic efficiency, the President added: "We must provide incentives and conditions for technological and innovational progress. Most importantly, we must develop a framework, or infrastructure, that would encompass all government and private institutions that support innovation. Our natural advantages must be consolidated and expanded. We must develop the basic sectors of our economy, including deep processing of natural resources, the use of energy, transportation and agriculture. Existing production facilities in all spheres must be modernised. This entails a retraining of management and an almost complete overhaul of existing technological capabilities."

Looking to the future, Putin said that "another important area is the development of new globally competitive products, above all in the hi-tech sectors that spearhead the `knowledge economy': the development of information, medical and other modern technologies."

Putin was also emphatic about infrastructure: "We will need to improve and expand basic infrastructure, including roads, railway stations, ports, airports, power plants and communication systems. It is very important to develop the financial sector. Eventually Russia should become an international financial centre."

The Russian Development Strategy to 2020 can only achieve a breakthrough with renewed emphasis on `human capital'. `Human capital' must emerge as the main factor of development and growth. A better quality of life, a more comfortable and cleaner environment, investments in education and healthcare - all of this can be considered `investment in human capital'.

Dmitry Orlov
director-general, Political and Economic Communications Agency
Expanding the middle class and creating jobs

Putin emphasized the development of a middle class, which, according to various estimates, stands at a mere 25pc: "We must make sure that all our citizens, using all their knowledge and skills and where necessary government assistance, have an opportunity to acquire a quality education, healthcare, to buy a home and have a steady income. I think that the minimum share of the middle class in the population structure by 2020 must be at least 60pc, and probably 70pc. It is necessary to develop market institutions and a competitive environment that would stimulate industries to cut costs and develop new products".

He also stressed job creation: "We must create hundreds of thousands of high-skilled jobs that tap into the intellectual potential of our workforce. The state should actively assist people who want to change their professions, to help them find employment or start their own businesses. That depends directly on the system of education and retraining of personnel, and on creating a comfortable environment for small business. At present, doing small business is an uphill struggle."

Yes, small business is having a hard time. There are now 1.1m small enterprises and about 3m individual entrepreneurs; and we need at least three times that many. People should be given an opportunity to try their hand at doing business, especially since the structure of small business in Russia is heavily dominated by retail, which leaves free niches in the spheres of medicine, education and social services, industry and innovation. These are sectors in which Russians can work and to which investment can flow.

"Small business in industry and technologies is a major untapped reserve for boosting labour productivity in Russia. Small companies are one-third faster at innovation than larger companies. The state must create conditions in which people can display their entrepreneurial flair. They must have a chance to lease premises and obtain loans.

Sergei Borisov
president of Opora Rossii, the country's largest non-governmental organisation of small and medium business
Improving the demographic situation

Rusia currently ranks below Bolivia in terms of average life expectancy. This was a major theme for Putin: "At present one in two men in the country will die before the age of 60. That is a disgrace. And there are fewer and fewer Russian citizens every year.

"I believe that we can stabilise the population within three or four years. That would call for very serious, systemic changes in the way medical care is organised, in modernising medical institutions and upgrading the skills of health professionals."

Putin also addressed some of the side effects of his demographic policy: "Among the key tasks are housing construction and mortgage. It has to be borne in mind that economic growth and higher incomes would greatly boost demand for education and health services. If these spheres are to meet the growing demand, they should be financed on the basis of their performance.

We must use tax mechanisms to stimulate investments in the development of human capital, and encourage citizens to co-finance their pensions."

RBTH COMMENT: President Putin recently approved a new demographic strategy for Russia that will occur in three stages until the year 2025. In the first stage, Russia's population decline will be dramatically reduced. By 2015, during the second stage, the population is expected to be stabilised at the level of at least 140million. The third stage would see the population start growing. By 2025 Russia's population is to rise to 145m and the average life expectancy to 70 years.
Corruption and reforming the civil service

Perhaps Putin's greatest failure has been his inability effectively fight corruption. He acknowledged this in his speech: "The current government is a bloated and corrupt institution that does not seek positive change, let alone dynamic development."

One of the largest challenges to the Russian economy is the pressure businesses face from bureaucrats hungry for a share of their profits. Putin spoke on this: "We should get rid of excessive administrative pressure on the economy, which is one of the main brakes on its development. By optimising functions and changing the structure of the payroll, we can create incentives for effective work in the state sector. We must create a competitive environment to attract the best human resources into the civil service and to make it more responsible to society."

Putin elaborated: "It takes the government months, and sometimes years to pass even the most elementary decisions. The state employs about 25m people, more than a third of the total workforce! It's obvious we don't need such a huge public sector. Many of functions performed by the government today could be left to the more efficient private sector."

However, given the utter failure of the last administrative reform in 2005, the President's ability to carry out these promises comes into question.

Putin also sought to address the daunting task faced by businesses in pleasing the taxman: "It is necessary to streamline the tax system by minimising arbitrary interpretation of the laws and to introduce new tax incentives for economic innovation. On the whole, we must reduce the tax burden, especially in regards to the VAT."

Reducing VAT from 18pc to 10pc has been the subject of some debate in Russia.

Administrative reform is a daunting task. The bureaucrats themselves are the main obstacle. Show me a bureaucrat who wants to reform himself. So what happens every time we embark on administrative reform is that the number of bureaucrats increases and red tape increases.

Valery Khomyakov
director-general,
National Strategy Council
Foreign policy and national security

Putin expressed concern over America's growing assertiveness in world politics. Echoing his February 2007 speech in Munich, the President sought clarification for a number of steps undertaken by the US: "It is clear that a new arms race is unfolding in the world. It was not initiated by Russia. The most advanced countries use their technological prowess to invest billions in the development of new-generation defensive and offensive weapons. Their defense spending is beyond comparison with ours - often tens of times higher."

The President also echoed frustration over what many in Russia see as unilateral politics on the part of the US: "For decades we have strictly abided by our commitments and complied with all agreed upon international security arrangements, including the treaty on conventional forces in Europe. But our partners, members of the North Atlantic Treaty Organisation, have not ratified some documents and do not comply with others. Nato itself is expanding and bringing its military infrastructure closer to our borders.

"We have dismantled bases in Cuba and Vietnam. What did we get in return? The Americans are opening new bases in Romania, Bulgaria and a missile defense system in Poland and the Czech Republic. We are therefore forced to take retaliatory action and meet the challenges placed before us. Within the next few years Russia will launch the production of new weapons and rethink its military strategy."

Putin also indirectly referred to the invasion of Iraq and the worry expressed by some Western politicians over investment originating from countries such as Russia and China. To many Russians, the rhetoric employed by Western governments often seems hypocritical. Putin addressed this in his speech.

"Let me stress that the world is not becoming simpler but rather more complicated and competitive. Under slogans of freedom and an open society, the sovereignty of certain countries and entire regions is sometimes violated; we see developed countries step up protectionist policies to the accompaniment of high-sounding rhetoric about free trade and investments. The fight for resources is becoming ever fiercer. There is a `smell' of oil and gas in many conflicts."

However, Putin concluded his foreign policy segment on a lighter and more conciliatory note: "Our choice is obvious: we are a reliable partner for the entire world in tackling global problems. We are interested in cooperation in all spheres: security, science, energy and global warming.

"We are interested in being actively involved in global and regional integration processes, in close trade, economic and investment cooperation, in promoting high technologies and introducing them into daily life. To achieve these national goals we need a peaceful and positive international agenda."
All rights reserved by Rossiyskaya Gazeta.