Ford leads the race on Russia's roads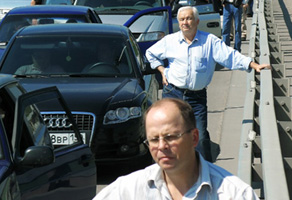 Russia's automotive identity was once formed, in most part, by just two models - the Zhiguli (Lada) and Volga series. Now the nation's roads are filled with a bewildering array of foreign cars. Gone, too, is the polarisation into high-end glamorous and bog-standard basic models. Today, nearly half of all cars that are sold fall into the middle-price bracket. Many of these are now produced in Russia.
The most popular foreign car manufacturer in Russia today is Ford, which shifted almost 116,000 units in the past year. Ford also leads in the production of vehicles manufactured in Russia: its plant at Vsevolozhsk, just outside St Petersburg, currently assembles more than 60,000 cars annually. The Ford Focus has also been acknowledged as the most popular foreign model in the country over the past five years.

But Ford is not the only thriving automobile business in Russia. The entire sector is benefiting from a real consumer boom. In 2007, Russia's car market rocketed by 35pc, up to 2.79m cars. In the same year, Russians spent exactly half of their incomes - $53.4bn - on cars. Of this total $34.1bn went into buying new imported models.

That is quite normal in developed countries, but for Russia it was a big surprise, welcomed as a sign that the country is going over to a "European" pattern of consumption.

As car sales increased so did borrowing to fund them. Car loans almost doubled in Russia last year.

Experts believe that, with this trend now well established, Russia could overtake Germany to become Europe's largest market as early as 2008-2009. In a review of the Russian auto market, PricewaterhouseCoopers predicted that more than 3.5m cars would be sold in 2008, representing a rise of about 25pc.

A survey of car preferences among Russians in 2007 showed that demand is by no means confined to the lowest-priced models. Unlike EU car users, who preferred to buy B-class models, Russian motorists mostly purchased "bigger-sized" C-class vehicles (though opting for budget models of that segment). With incomes growing and credits readily available, buyers are increasingly eyeing more comfortable, higher quality and pricier cars.

According to AVTOSTAT, in 2003, 85pc of sales were within the $10,000 price bracket. In 2007, the share of this segment dropped to 26pc.

The vast majority of foreign cars are sold in Moscow - four times as many as are sold in St Petersburg, nine times as many as in Yekaterinburg and 18 times as many as in any other Russian city.

Brand popularity varies regionally. Provincial motorists, as a rule, choose different models to Muscovites. In central Russia, for example, Chevrolet and Renault are particularly popular, while in Moscow they do not even make it into the top three. Japan's Toyota is also immensely popular in the regions, which is easy to explain - poor roads put a premium on these cars in central Russia, the Volga area, the Urals and Siberia. Hyundai models are favoured in southern Russia.

Prices and preferences are, of course, continually changing, not least as most of the world's car makers go local in Russia. Ford, which led the way into Russia with its plant at Vsevolozhsk, has been followed by Avtotor in Kaliningrad and Renault in Moscow.

Toyota, meanwhile, has plans to launch production just outside St Petersburg, while Nissan, Volkswagen, Skoda, Suzuki and GM are also building factories in Russia.

There are currently 22 agreements concluded on the industrial assembly of foreign brands in Russia. By 2012, it is expected 1.4m foreign cars will be rolling off Russian conveyor lines all across the country.


Why buy one Rolls-Royce when you can buy two?

The Russian market is the fastest growing market in Europe. In pure sale volumes, Russia belongs to the top three in continental Europe. Since Rolls-Royce opened its office here in 2004, sales have more than doubled. Few countries can boast such results. About 100 Rolls-Royce cars are now rolling on Russian roads. And there are more Rolls-Royce owners in Russia than that, since Russian buyers are among the most mobile in the world.

They may buy one car for driving in Moscow and another in France. Russia has an even bigger potential for future growth.

IAN ROBERTSON
chairman of Rolls-Royce Motor Cars

We are Bentley's major client in continental Europe. We have first agreement on the number of cars we need in any year, with the rest of European dealers supplied on a leftover principle. Just in terms of Ferrari, this year we received 55 cars. Even this wasn't enough, and the manufacturers have increased it slightly, up to 60 cars. The situation with Lamborghinis is worse than with Ferraris: this year we were allowed just 23 cars, and all of them were sold months previously.

ILYA BEREZIN
director of Mercury Auto, exclusive Russian importer of Ferrari, Lamborghini, Maserati and Bentley cars

The Russian Ministry for Economic Development has a total of 23 agreements with car manufacturers to build an assembly operation in Russia. And inward investments have already topped $5bn.

In 2008, one of every two cars sold here will be foreign-made. With a market of this size at stake, it is not surprising the world's car manufacturers are moving in large numbers to build plants in Russia.

ELVIRA NABIULLINA
Russian Minister for Economic Development
All rights reserved by Rossiyskaya Gazeta.