Renault makes Volga car empire world's No 3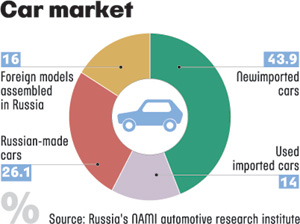 Car giant Renault-Nissan has bought a 25pc stake in AvtoVAZ, the strategic carmaker that has dominated the Russian motor industry for nearly 50 years, for $1.2bn.

The government believes the deal, the final step in building a trilateral alliance, will make Renault-Nissan-AvtoVAZ the world's third largest carmaker after Toyota and General Motors (GM), able to produce up to seven million cars a year.

Russia will continue producing Ladas, the main AvtoVAZ brand, on the platform of Renault's Logan.

AvtoVAZ wanted a foreign partner to streamline and modernise its operation. It considered Fiat and GM, and planned to produce S Class Ladas with the Canadian concern Magna before opting for Renault.

Car facts

1. The number of cars in Moscow per capita is now as high as in New York. The proportion
produced in Russia is also increasing, as leading international manufacturers look to open local factories in ever greater numbers.

2. In 2003, there were 84,700 cars sold in the $10,000-$20,000 price range, accounting for less than 8pc of the Russian market. Over the following four years, this percentage shot up to 43.9pc.

3. Last year, there were 86pc more cars sold in the $20,000-$30,000 price category (346,000) compared to the previous year. Car sales in the $30,000-$40,000 and $40,000-$50,000 ranges also doubled to reach 207,000 and 110,000 units respectively. There were more than 125,000 sales of luxury cars priced above $50,000.

4. The Russian car-parts market is estimated at $32.7bn (end of 2007 figures). Analysts predict that this will grow by at least 20-25pc annually over the next few years.
All rights reserved by Rossiyskaya Gazeta.