Party leadership makes PM Putin much stronger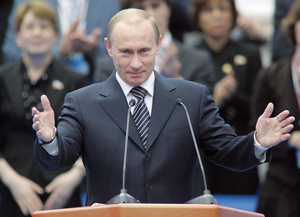 Following changes to United Russia's constitution on the eve of Putin's election, the chairman will be able to name candidates for all the important positions inside United Russia's top bodies, and to veto any decisions except those of the party's convention. The chairman can only be removed by a two thirds majority vote at the party's convention. So as chairman of United Russia, Putin will in fact have personal control over the parliament, since United Russia has an absolute majority in the Duma.

It means the new Russian Prime Minister will no longer be in a humiliating position of a person dependent on the whims of the President or the changing factions inside the parliament.

In the period between 1993 and this change in the constitution, the Prime Minister was a weak political figure. Viktor Chernomyrdin, Yevgeny Primakov, Sergei Kiriyenko, Viktor Stepashin and Mikhail Fradkov were all dismissed by Presidents Yeltsin and Putin, sometimes against the will of the parliament.

Now Putin can not only hope for qualified support for the government's initiatives, but also protect himself from eventual sacking by the President. Even if Medvedev decides to sack Putin, the latter may initiate an impeachment against the President. During this procedure the President has no right to sack the government.

So while right now the relations between Putin and President-elect Medvedev seem to be flawless, having a few checks and balances imposed on the President will certainly make Russia's political elite feel safer.

This new situation is a boost for the role of parties in Russian politics. Now United Russia is becoming an important centre of power, even though this power is centred on one man.
All rights reserved by Rossiyskaya Gazeta.