Moscow can add to your security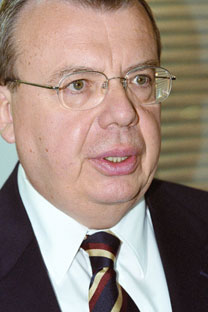 Just ponder this: Russia in military alliance with Mexico, Cuba and Canada; armed to the teeth and with the US excluded. Will Washington sit on its hands and put trust in hollow verbal assurances?
It does not take a foreign policy specialist to sense that the first ever summit of the Russia-Nato Council held in Bucharest led to serious thinking about whether the "East v. West" mentality will ever become a vestige of the past. Given the lack of any unmanageable conflict of interests between the key players in Eurasia and Euro-Atlantic region, this should have happened more than a decade ago.

Russia has been endeavouring to take the ideology out of its actions in the international arena, ostensibly over the recent eight years, by introducing pragmatism into foreign policy... firm yet without confrontation, upholding its national interests, and with the readiness to cooperate with all on an equal basis. Being preoccupied with the long overdue goals of economic growth and the increased wellbeing of the population, the Russian public and its leadership made a conscience choice in favour of stability and predictability as its tools in relations with foreign partners, both near neighbours and farther afield.

With this in mind we remain convinced that the Russia-Nato partnership should be particularly instrumental in considering a wide range of security issues for the benefit of all its members. Indeed, we have been able to make significant advances in the development of political dialogue and practical cooperation. Among these are efforts to stabilise the situation in Afghanistan. We agreed to a simplified procedure for the cross-country transit of non-lethal goods via Russian territory to supply the International Security Assistance Force in Afghanistan. We set up a joint anti-drug project in Russia. We implemented an initiative on cooperation in space, as well as a project for theatre missile defence. We have actively collaborated in the area of counterterrorism. There has been progress in efforts to improve the interoperability of Russian and Nato armed forces in the field of civil emergency planning. Russia's ratification of the agreement on the status of forces involved in the Partnership for Peace programme will provide these efforts with a solid legal basis.

We have achieved a great deal together. However, it is clear that the effectiveness of our cooperation will depend on the extent to which Nato reciprocates Russia's respect for the interests of others and the Alliance's willingness to meet us midway. There are serious obstacles to the development of our relations.

We view the appearance on our borders of a powerful military bloc as a direct threat to the security of our country. The claim that this process is not directed against Russia will not suffice. National security is not based on promises. And the statements made prior to the bloc's previous waves of expansion simply confirm this. After all, the fifth article of the Washington Treaty has not been repealed.

The military bases in Romania and Bulgaria, and American missile defence sites in Poland and the Czech Republic mean only one thing - moving military infrastructure to our borders. So we return to the opening scenario, with Russia in military alliance with Mexico, Cuba and Canada. Would Washington sit idly by?

We have legitimate concerns over the lack of clarity on the prospects for Nato's transformation. The alliance's vague aspirations to play a global role in the area of security, moving beyond the zone of its geographical responsibilities and extending its activities into areas such as energy security and cyber security, do not help to build trust. In addition, the criteria for the use of military force by Nato remain unclear, as does its relationship with the United Nations Security Council.

All these "externalities" are not working at strengthening predictability and trust in our cooperation and will eventually prevent it from moving to a new level. Moscow and a significant number of like-minded partners maintain that the existence of the Nato bloc is not an effective answer to today's challenges and threats.

We never argued that Russia has veto power over the enlargement and other decisions of the alliance. Moreover, we are not trying to gain it. But equally no one can deny us the right to expose negative factors which may affect the geopolitical situation with imminent damage to Russia's security. Any responsible leader will do the same if his country comes up against the realities that currently face Russia. It is equally our duty to prevent a development of events which would worsen our relations with Nato and our neighbours.

The sharpest problems are Georgia and Ukraine. They are being unashamedly pulled into Nato, although, as is known, most Ukrainians are against this, and Abkhazia and South Ossetia won't even hear of it. This will result in a substantial negative geopolitical shift. We also see how work is being conducted with the Central Asian states and Azerbaijan in order to put their energy resources on routes bypassing Russia. This cannot but have consequences, primarily in geopolitics but also economically, because the closest ties of hundreds of our and Ukrainian enterprises in the military-industrial sector will, of course, be reviewed.

Moscow believes that to put sheer counter pressure on these sovereign countries in retaliation would be disrespectful. They are entitled to choose their foreign policy and foreign economic partners. The chief answer will be Russia's attractiveness in all areas... in the economic and the political, in the cultural and in the sense that we are a country that can offer an added value to someone's security. We are doing it both within the Collective Security Treaty Organisation and within the Eurasian Economic Community, particularly in the context of creating a customs union. There is also a benefit from the viewpoint of ensuring the tranquility and defence capability of these countries.

To wrap up, concerning issues of assuring its own security, Russia is a self-sufficient country. But we intend to cooperate with Nato as a large organisation and a priority partner. This, however, should not deprive us from the right to clearly identify the problems hampering further interaction in areas where we have common interests. Today's security threats cannot be dealt with in isolation. They require concerted action by all strategic players. Russia stands ready to work with all parties. -


All rights reserved by Rossiyskaya Gazeta.