Russians receive top Indian Awards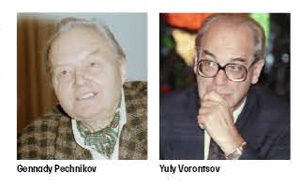 Pechnikov, then leading actor at the Moscow Children's Theatre, starred in its sensational production of the Ramayana in the 1950s. The press called it "amazing and fascinating". Jawaharlal Nehru, who saw it, said he was "our real Rama".
Now, at the age of 81, Pechnikov travelled to India to receive the award from President Pratibha Devisingh Patil.
"It shows that India remains our friend and is determined to develop cultural contacts with Russia," he said.
He is convinced that cultural links should be at the foundation of Russian-Indian relations. We can only regret that these links are now looser than before and the number of Russian enthusiasts for Indian drama and the Indian epics has dwindled.
"The present situation is totally unlike what we had 20-40 years ago, when Russian contacts with India were at their peak," he said.
Pechnikov wants to turn to documentary cinema and make a film about Gerasim Lebedev, the first Russian Indologist. An 18th century diplomat and versatile linguist, Lebedev studied Bengali and Marathi, translated parts of the Bible into several Indian languages and established India's first European-style stage company.
"The film would be of tremendous importance," Pechnikov said.
He is preparing a programme for 2009, the Year of India in Russia, in which drama school students will recite patriotic verse by Indian poets. Pechnikov pays equal attention to Russian heritage, and stresses the eternal relevance of Leo Tolstoy, Alexander Ostrovsky, Anton Chekhov, Fyodor Dostoyevsky and other classics.
Yuly Vorontsov, who died in December 2007, was the Soviet ambassador to India in 1978-1983. He received the Padma Bhushan for his outstanding contribution to the contacts of the Soviet Union and later Russia with India. His daughter accepted the award from President Patil at a ceremony at the Rashtrapati Bhawan.
The Padma Vibhushan, Padma Bhushan and Padma Sri for 2008 were awarded to several dozen outstanding scientists, community activists, businessmen, physicians and journalists. Of special notice among them was Haji Kaleem Ullah Khan, an agricultural researcher famous for grafting 54 mango varieties on one tree.


All rights reserved by Rossiyskaya Gazeta.