Mixed Expectations for Medvedev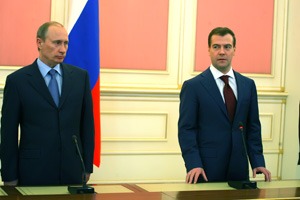 Dmitry Medvedev was inaugurated as Russia's third president on May 7, succeeding Vladimir Putin, who is now prime minister.

Medvedev, Putin's longtime ally, won a landslide victory in presidential elections, gaining more than 70 percent of the vote against three rivals.

Close to half of Russia's population believes that the country's foreign policy is unlikely to change under Medvedev, the state-run VTsIOM pollster reported.

That said, 26 percent believe that relations between Russia and other countries will improve. Only 5 percent expect relations to worsen. Eighteen percent declined to answer.

Twenty percent of respondents said that Russia's foreign policy towards the West should be tougher, while only 6 percent said the president should be more "pro-Western."

Less than 10 percent said strengthening ties with the U.S. should be a priority for the Russian president.

Bush and Medvedev met last month in Russia's Black Sea resort of Sochi. At this summit, the Russians and Americans discussed economic development in Asia, new threats from extremists and the deployment of a U.S. missile defense system and NATO expansion. The process of globalization offers both countries the opportunity to formulate solutions. Bush and Medvedev are expected to continue these discussions in July at the G8 summit in Japan.


All rights reserved by Rossiyskaya Gazeta.