U.S.-Russian Economic Dialogue Renewed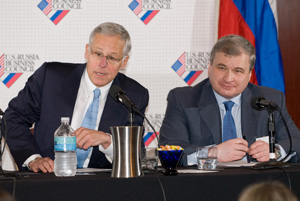 During the recent U.S.-Russia Business Council launch of the two countries' Economic Dialogue, First Deputy Minister of Foreign Affairs of Russia Andrei Denisov and U.S. Under-Secretary of State for Economic, Energy and Agricultural Affairs Reuben Jeffery brought a new dimension to the bilateral relationship.
Eugene K. Lawson

President

U.S.-Russia Business Council

"We at the Council have been pushing for the creation of just such a framework for some time, and are encouraged by the initiative and overall progress that Mr. Denisov and Mr. Jeffery have achieved. I am hopeful that the Dialogue will address some of the more difficult issues that we face in our bilateral relationship, like energy security and broader investment in both countries and the mechanisms that govern that investment, i.e., CFIUS and the Law on Strategic Sectors. Bringing the private sector into the discussion will be the logical next step in the process, and we look forward to playing an active role in that discussion."

Sergei Kravchenko

President

Boeing Russia and CIS

"As a member of the U.S.-Russia CEO Initiative - established last year at the Economic Forum in St. Petersburg - the Boeing Company is very supportive of the recently launched government-to-government U.S.-Russia Economic Dialogue. The Economic Dialogue will further enhance communications between the two governments, as well as the business communities. We fully anticipate that this initiative will lead to greater understanding of the outstanding issues that must be resolved prior to Russia's accession to the WTO. The commitment to continue and expand the economic dialogue between our two great countries is to be highly commended. Boeing will continue to actively support efforts to achieve a commercially meaningful WTO agreement in the near future."

Stephen E. Biegun

Vice President

Ford Motor Company

"Ford Motor Company recently commemorated the 100th anniversary of our first investment in Russia. As a leading investor in Russia's booming automotive industry, we see our business thriving thanks to the dramatic growth of the Russian economy. As a founding member and Co-chair of the Coalition for U.S.-Russia Trade, we strongly support initiatives such as the U.S.-Russia Economic Dialogue in order to expand trade and investment between the United States and Russia. The creation of a new government-to-government and business-to-business framework will highlight the vigor of commercial ties between our two countries and will provide an opportunity for a regularized discussion on how to keep our trade and economic partnership on a mutually advantageous basis."

Blake Marshall

Senior Vice President & Managing Director, Global Government Relations Group The PBN Company

"I was pleased to learn that the inaugural session of the U.S.-Russia Economic Dialogue included reciprocal discussions of Russia's new strategic sectors legislation and recent modifications to our own CFIUS procedures because there has been ambiguity about both process and scope, as well as a misperception as to intent on both sides. So this is an important part of the framework to get right from the outset, and it reminds us that a mature economic relationship is rooted in transparency and reciprocity. Also, the Dialogue's discussion of the subprime crisis in the U.S. and its liquidity impact in international markets points to the extent to which Russia is already integrated into the global economy, and not simply from a commodity perspective. The next step is to enlist private-sector participation to help set the agenda going forward and to contribute its expertise - after all, governments provide policy support, but businesses are responsible for investing capital and creating jobs."

Sarah Carey

Partner
Squire, Sanders & Dempsey, L.L.P.

"The Dialogue is a very positive initiative. Investor interest from each of our countries in opportunities in the other country is at an all-time high. The economic relationship is strong, despite certain political issues between our two countries. The Dialogue will facilitate those relations and strengthen them. In addition, it will serve as a platform for developing major new commercial ventures, such as cooperation in nuclear energy, in space exploration and commerce, and in the commercialization of advanced technologies. The Dialogue should also enable each partner to assist companies from the other partner in navigating national regulatory regimes, such as the rules governing foreign investment in strategic sectors." -


Russians Spend at Retail


Russia's retail market will become Europe's largest this year, with a $644 billion turnover, and is expected to grow by at least 20% in the next two or three years.


Last year, Russia ranked fourth in Europe in terms of retail sales, after Germany, France and Britain, according to IRG and IMSG market research companies. In 2008, Russia is expected to overtake all these countries.

Most Western European markets grow by 10%-12% annually, while in Russia, the rate is two or three times higher. The Russian retail market is expected to grow by as much as 27.5% this year, and by at least another 20% in the next two or three years, according to researcher Alexander Utochkin.

However, Russia's per capita retail sales are still far behind that of West European countries. In 2008, it will reach $4,542 - less than half that of Britain, the European leader.

However, Russia's per capita retail sales will reach 70% of Britain's figure by 2010, while Moscow is expected to actually overtake London in less than two years. In 2009, the average Londoner will spend $15,700 on retail goods, and his Moscow counterpart, $15,200.

The Economics Ministry estimates that Russians spend 70% of their incomes on goods and services. The Center for Macroeconomic Analysis and Short-Term Forecasting puts the figure at a staggering 83%. Rising demand fuels inflation which, in turn, prods people to spend rather than save.

Russian supermarkets have a gross trade margin of 19-25%, which is only slightly above the Western European level of 16%-18%, according to Alexei Krivoshapko of Prosperity Capital Management. "However, it is possible to grow faster in Russia, because the market is not yet saturated," he said.

Russian retailers sounded optimistic as 85% of the 49 companies polled by Ernst and Young said they expected at least a 30% growth rate in the next four or five years. -


All rights reserved by Rossiyskaya Gazeta.