Russia to Initiate Clean Water Program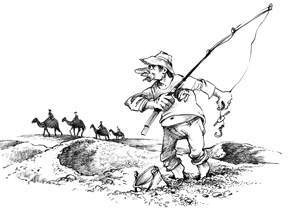 Experts say a shortage of fresh water will be one of humankind's greatest problems in the near future. They warn that major conflicts will be waged for water.

The nascent water crisis has two key causes: a diminishing of headwaters and ground waters, and the pollution of water sources. These interrelated trends are a result of poor use of water and obsolete discharge facilities.

Russia has huge reserves of fresh water, but they are distributed unevenly across the country. The industrialized regions of European Russia, where as much as 80 percent of the population lives, have only 8 percent of the annual volume of river headwaters.

The housing and utilities systems built in cities during the Soviet period have become obsolete and are giving way, with pipes bursting, holes appearing in the soil, houses undercut by ground waters and problems in the summer with water quality. Local authorities cannot solve these problems without assistance, and the housing and utilities sector badly needs reform and investment.

Public-private partnership is a way to attract partners in solving these challenging problems.

Private operators already cater to 15 million Russians, or about 10 percent of the population, which means that they have huge potential for growth.

The specific feature of the water market is that it is controlled by national business (private operators), with international companies and financial organizations only trying to get a foothold. Tariffs in Russia are growing rapidly, and will soon reach European levels, which makes the country more attractive for international operators and financial structures. As a result, competition for contracts is becoming tougher.

In Rostov-on-Don (southern Russia) alone, Evraziyskiy will invest more than $127 million over the next four years, the city administration will provide as much as $70 million and the Russian Investment Fund will give $175 million.

We will attract private capital, using financial reserves created by economic growth and paving the way for a major contract in terms of modernization, development and reconstruction of the water supply and discharge system. When completed, the system will encompass not only the 1 million residents of Rostov, but also the 800,000 people living in the nearby towns of Aksai, Taganrog and Bataisk. They will have a common water service system and infrastructure. Rostov-on-Don will be the third city after Moscow and St. Petersburg to develop as a megalopolis. Importantly, tariffs will be the same throughout the territory.

The main principles of public-private partnership stipulated in the Rostov project will form the core of the Clear Water federal program. The housing and utilities sector needs long-term investments, which is possible only with state assistance.
All rights reserved by Rossiyskaya Gazeta.