2008 - a landmark year in Russia-India relations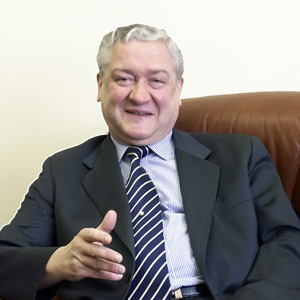 - Your Excellency, Russian former Prime Minister Victor Zubkov recently paid an official visit to New Delhi and inaugurated the Year of Russia in India. How would you assess the results of his visit?

- I would like to note that the visit of the Russian Prime Minister was relatively short but extremely eventful. Certainly the main event was the inauguration of the Year of Russia in India. Along with that Victor Zubkov addressed the opening ceremony of the second Forum on Trade and Investment of the Russian and Indian business communities. More than two hundred businessmen came to New Delhi for that meeting. The first such Forum had taken place in February 2007 with our delegation led by Minister of Economic Development and Trade German Gref who also participated in the Second meeting as Head of "Sberbank".
It is but natural that the inauguration of the Year of Russia in India was marked with a magnificent cultural programme. The open-air gala-concert was held in New Delhi on a cool evening of February 12 at the picturesque ruins of the Purana Qila against the backdrop of astonishing laser effects, digital images of Russian and Indian places of interest and numerous spotlights.
It is sure to remain in the memory of Indians, members of the diplomatic corps and all those who witnessed that absolutely amazing concert. The Indian public could get acquainted with the rich variety of contemporary Russian art ranging from Pyatnitsky Chorus to Dima Bilan.
The Russian Prime Minister had official discussions with the President and the Vice-President of India. There was a meeting and delegation-level talks with Prime Minister Dr Manmohan Singh. Victor Zubkov also received Minister of External Affairs Pranab Mukherjee, Leader of the Opposition L.K.Advani, Finance Minister P.Chidambaram and took part in the opening of the Delhi representation of our largest financial corporation "Sistema".
The launch of the Regional Information Centre in New Delhi set up by "RIA-Novosti" news agency was another highlight of the Prime Minister's visit. This Centre is designed to cover the events of this festive year and the forthcoming Year of India in Russia as well as to bring our media presence in India in general to a new level.
It is worth mentioning that member of the Russian delegation Deputy Prime Minister Alexander Zhukov inaugurated an important institution the India-Russia Chamber of Commerce which would help Indian businessmen intensify contacts with Russian partners.
Various events in the framework of the visit of Victor Zubkov and inauguration of the Year of Russia in India have undoubtedly given a strong boost to our relations in the spheres of trade, investment and utilization of the Indian Rupee debt through mutually beneficial investments. In other words this one-day visit has become an important milestone in the current development of Russian-Indian ties.

- Victor Zubkov noted in his statement that in the last year alone Russian-Indian trade turnover increased from 4 to 5 billion USD. He confirmed the goal to raise it to 10 billion USD by 2010. First of all, do you think it is possible and, secondly, which goods and services could contribute to reaching this goal?
Recently we have been indeed witnessing a certain increase in trade between Russia and India. You can just compare the present trade turnover with 1,7 billion USD at the end of 2004. Given the trend towards progressive expansion of trade in the last two years, maintaining the same growth rate it will be possible to achieve by 2010 the goal of 10 bn USD mentioned by Victor Zubkov.
At the same time I must note that we often get obsessed with the figures of trade without analyzing its quality. I can give a straight answer to your question concerning the spheres which can help increase the turnover to 10 billion USD. It is possible only if our commercial exchanges include capital-intensive and science-intensive products. Along with that mutual investments must become the main factor contributing to the revival of trade.
It is necessary to considerably step up our contacts and cooperation in high-tech and telecommunications. By the way, "Sistema" is a pioneer in this field in India. Facing tough competition, this company, first of all, established a strong foothold in the Indian market and recently managed to obtain a license, which allows "Sistema" to carry out pan-Indian telecom operations.
It is worth mentioning that just a day before the visit of Victor Zubkov to India an agreement on expanding our peaceful nuclear cooperation with India was initialed. Both countries are keen to increase the potential of "Kudankulam" nuclear power plant up to 6000 megawatt, and in the long run Р to build nuclear power plants in other regions of India as well.
Undoubtedly, the Indian Side continues to consider Russia as a supplier of energy resources. The Indian partners seek to purchase stakes in the Russian oil and natural gas companies in order to jointly exploit new deposits. This will also contribute to larger trade turnover, stronger economic ties and greater energy security of our strategic partner Р India.
It would be wrong to say that we have completely forgotten about traditional goods. Personally, I am glad that recently Russian companies have started expressing interest in cooperation with Indian textile industry. This is something India was famous for in the past - Russians and many other nations of the former USSR remember very well knitwear and wool products imported from Ludhiana in the Indian state of Punjab. To my mind, given the current development of the Indian textile industry, we will surely be able to get high-quality and relatively cheap goods from here.
It is natural that the Indian Side is still interested in exporting such goods as tea, coffee, leather. Here quality is the main issue. The higher is the quality of goods offered by India, the greater are the chances that Russian customers would be interested to buy them. Thus, it can also help to achieve the trade turnover of 10 bn USD.
But, in my opinion, we should not make a fetish of this figure, because bilateral trade growth rates of India with other countries are substantially higher. And by the same year 2010, India and China are going to reach the trade turnover of 40 bn USD. I think we should not content ourselves with the figure of 10 bn USD. We should address larger-scale tasks, longer-term goals and, of course, improve the quality of trade.

- Recently Russian company "GidroOGK" and the Indian SUN Group agreed to establish a joint venture to take part in hydropower plants construction in India and other countries. Could you, please, tell about this project?

- At present it is still a project. The Indian Government faces acute problem of augmenting its energy resources, and every step aimed at building new energy generation capacities, especially on the Indian territory, is considered noble and positive. Small and medium size hydropower plants in India, particularly in its mountain states, provide huge opportunities for quickly generating cheap electricity, coming from permanently renewable sources. The SUN Group's turn towards construction of such power plants is quite well-timed and far-sighted.

- Along with the visit of Victor Zubkov this February Mr Robert Gates, Defence Secretary of the United States, also visited India. According to The Hindu newspaper (March 10 issue), during his visit in February the Defence Secretary discussed with the Indian leaders possibilities of cooperation between Washington and New Delhi in creation of missile defence system. Could you, please, comment on this assertion and the current trend towards closer relations between India and the US? Could this rapprochement affect the positions of Russia in India and in the region in general?

- As far as the US Defence Secretary's visit to India is concerned, I would not say that it resulted in a breakthrough or produced a distinctive shift in military-technical cooperation between the two countries, or their cooperation in some other areas. In my opinion, the situation, which is described as "rapprochement" between India and the US, is merely a consequence of a new American assessment of the role and influence of India in the international arena. I am firmly convinced that this process has been initiated by the American side. Taking into account the role to be played by new India in Asia and the Asia-Pacific region in the near future, the US Administration can not ignore the "largest democracy" in the world, as India is often called, in its geopolitical "strategies".
Presently I do no see any serious basis for articles on discussions between the two countries with regard to their interaction in Missile Defence. For this a solid background of technical and R&D cooperation in the defence sphere is required, as well as of active military exchanges and, most importantly, mutual political interest of both partners in such a system. I haven't seen so far any signs whatsoever of India's intention to seek anyone's assistance to create Missile Defence. Naturally, Missile Defence would be useful for a large developing country with high political ambitions, strong economy and infrastructure, which require adequate security. However, India has not indicated any intentions regarding Missile Defence.
As for the general expansion of India-US ties in the sphere of defence, particularly military-technical cooperation, it is a reality nowadays. I must admit that competition in the Indian defence market is on the rise and such new phenomenon as the US entry into this market is one of the reasons for that. India purchased six military transport aircraft C-130J at the total cost of approximately 1 bn USD. It signifies a marked step towards serious development of India-US military-technical ties.
Nevertheless, to my mind the basis of Russian-Indian interaction in this sphere remains solid. With mutual goodwill on both sides we can overcome all the difficulties which may occasionally appear. There is no doubt that such goodwill does exist. It is confirmed by regular high-level meetings, including discussions at the level of Defence Ministers and in the framework of the Commission on military-technical cooperation. Therefore there is no reason for us to be afraid of expanding contacts between India and the USA given, of course, the fact that competition is devoid of any backstreet intrigues and dirty tricks. The key to retaining our strong footing in India, particularly in defence sphere, is constant improvement of the quality of weaponry we can offer to India, first of all, those, which we are going to produce jointly. Here they are: fifth generation fighter, transport aircraft and many more.

- It is no secret that American companies would like to boost their positions in the Indian civil nuclear market. How do you see the prospects of India-US cooperation in this sphere?

- The future of such cooperation depends primarily on several issues that are yet to be settled. Even though the draft of the so called 123 Agreement is ready, which could allow India to resume civil nuclear cooperation with all countries, not only the USA, it is also necessary that NSG lifts the sanctions and restrictions imposed on India after the nuclear tests of 1998. India is also supposed to sign a safeguards protocol with IAEA. If it all happens the outlook for India's interaction with the rest of the world in civil nuclear sphere will improve substantially. It will also open up new possibilities for Russian-Indian joint work.
Only time will tell how good are the prospects of India-US nuclear relationship. I would like to mention that the USA has not built NPPs on its territory for more than 25 years. Therefore its practical experience in construction is not so considerable. It is also important that financially such cooperation with the USA will be more expensive than with Russia. So I think we are unlikely to see an explosive start of India-US arrangement in this field. Nevertheless, India for sure will make use of the US experience as well as the experience of Russia, France, Canada. To my mind India will interact actively with all the countries who are able to make good proposals to facilitate its civil nuclear programme.

- Coming back to the triangle India-Russia-USA. We can see a very interesting situation in the region when the attitude of world powers to India's neighbour Pakistan is gradually changing. It is no secret that relations between Pakistan and the USA are deteriorating; certain tensions are seen between Washington and President Musharraf and there are signs that Islamabad might be rethinking its close ally relations with the USA. Can you comment on this? How do you see the future of Pakistan? Will Pakistan be able to maintain its territorial integrity when there is a geopolitical game in Afghanistan and high tension in the tribal zone in Belujistan?

- The task you mentioned at the end of your question is a major priority for any government of Pakistan. Nowadays the domestic situation in Pakistan is extremely volatile, complicated and fraught with unexpected twists and turns. Any separatist and extremist actions inside the country inevitably cause the weakening of its exterior positions. Questions are raised more and more often whether Pakistan would be able to keep its nuclear arsenal under control when stability in the country is so vulnerable.
In my view India is now doing its utmost to sustain the peaceful dialogue with Pakistan which is developing despite occasional setbacks. This dialogue is aimed at comprehensive improvement of the ties between the two countries, greater security and transparency in their defence and military objectives.
Certainly, Musharraf as leader of the state faces a rather complicated scenario. The goal of maintaining unity is achievable and should be addressed in the long-term context. The Pakistani society will have to take a tough decision on whether to cope with this task through democratic or dictatorial means.
Anyway, there are so many diverse negative factors in Pakistan now that the international community should think in terms of averting the developments which could redraw the geographical map of the region and affect the situation in the whole world. It is crucial to prevent radical and extremist elements in Pakistan as well as other countries from taking advantage of the existing difficulties in the country.

- Disintegration of Pakistan does not meet interests of both Russia and China. Aren't you afraid that the developments in Pakistan could lead to increasing disagreement between India and China?

- It is a fact that neither Russia nor China is interested in disintegration of Pakistan. But neither is India, because disintegration of its neighbour could in the long run cause considerable instability along the whole Indian-Pakistani border. It could also trigger a surge of radicalism and terrorism in Jammu and Kashmir, where they already exist creating a big headache for the Indian Government. India would hardly want to have a chain of such "Kashmirs" along its border with Pakistan. I would like to stress once again that the international community as well as neighbours of Pakistan should take every effort to ensure that such negative scenario is averted in that country.

- Does it mean that the global geopolitical stability in the region is more important than the possible quick benefits and advantages?

- For India, as well as for any other major power, geopolitical stability is the core factor of foreign policy. It would hardly benefit even the short-term interests of India if Pakistan ceases to exist breaking up into a bunch of poorly managed or even uncontrolled regimes, which the Indian Government will have to deal with. Moreover, such regimes are unlikely to be democratic.
So, if we look at the situation in India's neighborhood, we will see a conspicuous "circle" of tension and instability. Whatever country we look at, there is evident explosive potential. Domestic stabilization in Nepal is still fragile, there are huge difficulties in the political development of Bangladesh, civil war is continuing in Sri Lanka, political instability in Pakistan, military action is underway in Afghanistan, and the situation in Burma is also complicated. Naturally, all this diverts the Indian leadership's attention from the vital tasks of the country's political and economic development and constantly brings into focus the necessity of maintaining adequate defence potential.

- How does the continuing instability in Afghanistan influence the situation in the region in general and in India in particular?

- Instability in Afghanistan and further strengthening of its role as the main supplier of drugs in the international market are the factors which exacerbate situation in the region and carry global implications. As far as the region is concerned, developments in Afghanistan first of all influence Pakistan. Uncontrolled Taliban groups from Afghanistan are acting on the Pakistani territory and the international coalition forces, fighting against Al-Qaeda, often have to take military action in Pakistan Р these are all signs of continuing instability plaguing Afghanistan for many years. Certainly, India, which has been historically maintaining close and friendly relations with that country, is keen to see peace coming to the soil of Afghanistan as soon as possible. It would allow Indians to bring relationship with the neighboring state to the level it used to enjoy, when Afghanistan was a powerful and important commercial and economic partner for India, as well as was close to New Delhi on foreign policy issues.

- What is the position of India regarding unilateral declaration of independence of Kosovo?
The official position of India regarding independence declared by Kosovo was cautious. India expressed doubts regarding international legitimacy of that act. I believe that New Delhi will most probably give a more detailed account of its position in the near future taking into consideration the approach of other nations and its close partners as well as the destructive potential of such decision, which is undermining the basic principles of international law. Dangers and far-reaching consequences of the unilateral declaration of Kosovo independence are quite obvious to India. I think that India, keeping in mind the history of the fight against separatism on its own territory as well as the existing problem of Kashmir, can hardly welcome such developments in international affairs. The latest Indian position on the Kosovo problem, as it is reflected in a joint CommuniquZ by "Troika" (Russia-India-China) in Yekaterinburg, is a clear indication of this.

- And the final question. When today's Russia and today's India will be able to reach the same level of intensity and diversity in theirs relations, which existed in the era of the Soviet Union?

- In my opinion, it largely depends on how quickly Russia appraises the potential of India in the world arena, its role in the process of globalization of international relations and our joint steps on strengthening international security. Probably, our efforts could go along separate tracks in some spheres and be united in those areas where neither Russia nor India is able to cope single-handedly with large-scale tasks of economic and social development of our countries as well as raising the quality of life of our citizens.
All rights reserved by Rossiyskaya Gazeta.