Singing the praises of Catherine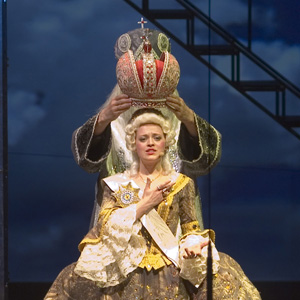 Catherine the Great is perhaps most famous in the West for the rumour that she was crushed to death by a horse during an act of bestiality. Not only is this false, but it also detracts from the truth of her fascinating life: A minor German princess who usurped the Russian throne from her husband, she corresponded with the French philosopher Voltaire, built a huge, wealthy Russian Empire and had a string of love affairs.


The tale of the development of a naive, 15-year-old princess into a powerful, enlightened despot forms the basis of a new musical by composer Sergei Dreznin.


The show, which premiered in Yekaterinburg State theatre, features a full orchestra, as well as Orthodox chants, rock, blues and rap numbers.

In a telephone interview, Dreznin said the show was an attempt to create a new genre - the Russian musical epic.

"It's a new page in Russian theatre. It's a combination of the Russian world of beauty and the achievements of the West in musical theatre.

"It's a kind of Boris Godunov as a musical," he said, referring to Modest Mussorgsky's opera based on Alexander Pushkin's drama. "There are mass crowd scenes, and the story takes place against a backdrop of people who change their opinions about Catherine."

The libretto, by playwright Mikhail Roshchin and lyricist Alexander Anno, covers Catherine's whole life. The heart of the story revolves around the battle between her private and public selves, the conflict between her love for her country and her passion for men such as Count Grigory Orlov and Prince Grigory Potemkin.

"It captures the unbelievable emotional depth of Russia," Dreznin said. "The showstopper is not all about fun, fun, fun, like in Western musicals. It's tragic."

"The ideas are as current as they were 200 years ago. One song goes, `In this rich country there's everything but fair power.'" Tragedy, he said, is something that still defines Russia. "Look at Chechnya - every mother trembles when her son reaches 18."

But the musical is not intended as criticism. "We love Russia the way it is. It makes people shiver with pride and shame," he said. "I'm just asking the questions: Who are we? Why do we live the way we do? It's up to the audience to decide."

Dreznin is one of the few Russian composers with an established reputation in the West, having worked in Vienna, New York, Berlin and Paris. The musical is directed by Nina Chusova and choreographed by internationally renowned, Yekaterinburg-born Tatyana Baganova.

The composer said there are plans to take the show to Germany, and that he hopes the musical will be performed in Moscow.

Response from Russian critics has been overwhelmingly positive.

With a budget of 17m roubles ($725,000), the production is epic in its staging and preparations - 700 costumes are used.

But there are no horses. At the end, Catherine doesn't die but leaves the stage singing: "I know you'll remember me."



Sergey Dreznin, composer
Sergey Dreznin is a Moscow-born (1955) concert pianist and composer, who played more than 200 concerts a year before moving to Vienna in 1987. While in Vienna he had several music theatre pieces produced, at the Salzburg Festival and across Europe, including Sarajevo, Berlin and his native Moscow on the eve of Perestroika. A graduate of the Tchaikovsky Conservatory in Moscow (as a composer) and the Russian Academy of Music (as a pianist), he was awarded the honorary diploma of the All-Russia Piano Competition (1977).


Stars speaking...

MARIA VINENKOVA, actress who plays the younger Catherine:
"Catherine is a real woman, who had total power. I know some people who are very skeptical of her, but I think she lived in a difficult time, she didn't control power, power controlled her... the musical follows a very Slavic
style."

NINA SHAMBER, the actress playing the elder Catherine:
"I think it will be a fantastic, historical musical spectacle We want it to be a big success, not just in Russia, but everywhere."




All rights reserved by Rossiyskaya Gazeta.