U.S., Russian CEOs Strengthen Ties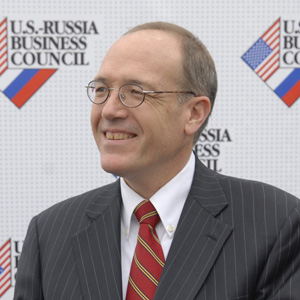 "U.S. business is having a positive impact in Russia by assisting in the development of good business practices and providing world-class goods and services. These broader market opportunities reach back to the United States with better corporate earnings," said Verona. "The fact that the Russian market is one of the fastest-growing and most profitable for our U.S. members is helping them at a time when the U.S. economy is weak."

In addition, Verona noted that U.S. exports to Russia jumped nearly 60 percent in 2007, and increased another 54 percent in the first quarter of 2008 alone. Verona noted that Russian companies are also benefiting from increased engagement with the U.S. "Russian companies are engaging in profitable ventures in the U.S. that sustain high-paying jobs from Oregon to Mississippi to Maryland," he said.

"Many of our policy leaders in Washington need to have a better grasp on the successes of the private sector," Verona suggested, citing Russia's WTO accession as an example. "Once the negotiations are complete, Russia's presence in the WTO will offer additional opportunities for engagement in a rules-based framework.

He added, "We look forward to working with our Russian counterparts in business, as well as political leaders in both countries, through the Economic Dialogue, where WTO accession and other important bilateral commercial issues come to the fore. We are also eager to begin work through a business-to-business dialogue that has yet to take shape to ensure continued engagement. The work we do now is important for laying a foundation of understanding that must continue in the future, regardless of who will be the next President of the United States."

Verona, who became President and CEO of the U.S.-Russia Business Council earlier this month, was featured at the St. Petersburg Economic Forum's panel on Sunday, June 8, with Russia's Deputy Foreign Minister Andrei Denisov, who co-chairs the government-to-government U.S.-Russia Economic Dialogue. -



RBTH note


The U.S.-Russia Business Council (USRBC) represents the interests of its 300 U.S. and Russian member companies, providing business development and government relations support in both Moscow and Washington. The USRBC contributes to the development of a free market (www.usrussiatrade.org).


At the conclusion of an exclusive gathering of U.S. and Russian CEOs at the St. Petersburg International Economic Forum, the U.S.-Russia Business Council President Ed Verona heralded a new-found environment of bilateral cooperation, and emphasized the private sector's key role in continuing to educate U.S. and Russian policymakers about the value of increased commercial engagement.
All rights reserved by Rossiyskaya Gazeta.