Rosatom Courts Foreign Investors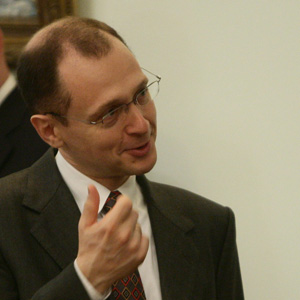 Speaking at the opening of the ATOMCON-2008 international nuclear conference in Moscow, the head of state atomic energy corporation said foreign investors would be able to buy stakes of up to 49 percent in civilian nuclear projects.

"We are opening up Russia's nuclear industry," Kiriyenko said. "Rosatom will never be privatized, but our affiliated structures are open for business, both from inside Russia and abroad."

Russia plans to build 26 new nuclear power stations by 2020 at a cost of 1.5 trillion rubles ($63.6 billion) to add to the 10 stations already under operation.

Kiriyenko told the representatives of several hundred companies from Russia, Germany, France, Japan, CIS members and other countries that allowing outsiders in would be a boon to the Russian nuclear sector.

"We would rather make billions of dollars together than hundreds of millions alone," he said. "We want there to be a real competition in every aspect of our activity and let the best [company] win."

Deputy Prime Minister Sergei Ivanov told the conference that investment from domestic and foreign firms would be welcome in areas all along the nuclear cycle.

"We are ready to broaden cooperation with our foreign partners in the supply of nuclear products and nuclear fuel-cycle services," Ivanov said.

Rosatom will hold tenders on building the nuclear stations, which generated interest from businessmen at the event.

"We will now be able to be involved in more projects in Russia," said Detlev Reichenbach, regional marketing director for Russia for Germany's Areva, a leading international firm working in the nuclear cycle - from mining to energy distribution.

Reichenbach said that, in the past, Rosatom had insisted that all equipment for Russian reactors had to be produced domestically and that a lack of money on the Russian side made it difficult to spread costs evenly between partners.

There had already been signs that Russia was looking at opening up the nuclear sector. France's Alstom, a leading transport and construction firm, created a joint venture with state-controlled nuclear-equipment producing giant Atomenergomash in January.

The ultimate level of cooperation faces some prospective obstacles, however, as two U.S. congressmen introduced a resolution on Tuesday opposing existing plans for cooperation with Russia in the sector.

The agreement, signed by Kiriyenko and then-U.S. Ambassador William Burns in May, would give the United States access to Russian nuclear technology and would help Russia establish an international nuclear fuel storage facility.

The resolution threatens to sideline the deal, which will take effect unless both houses of the U.S. Congress pass resolutions opposing it within 90 days.

Opponents of the deal said Russia was not doing enough to stop Iran's nuclear program, but Ivanov seemed unfazed by the concerns on Wednesday.

"What some congressmen say is not a problem for Russia," he said.
All rights reserved by Rossiyskaya Gazeta.