Historic Start to a New EU-Russia Partnership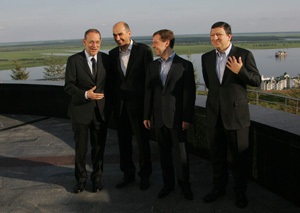 The 21st EU-Russia summit held in Khanty-Mansiisk on Friday was a historic one. Contrary to the predictions of some European skeptics, it resolved a number of bilateral and international issues. Russian and European leaders realized in the face-to-face meetings that their great mutual responsibility to ensure that globalization proceeds democratically and equitably requires a long-term strategic partnership between Brussels and Moscow.

President Dmitry Medvedev held several hours of direct talks with his European colleagues — European Council President Janez Jansa, European Council General Secretary Javier Solana and European Commission President Jose Manuel Barroso. Their discussions dealt with concrete global political and economic problems. They acknowledged that mutual interests and equality are the foundation for productive EU-Russian relations. These two criteria accompanied nearly all aspects of the bilateral talks, including even those questions on which Moscow and Brussels have yet to find common ground.

The summit participants did not demand that all issues on the table be resolved during the negotiations. But each side expressed their positions clearly and pragmatically. The talks addressed important topics such as public health, food security, the environment, bank reforms, global trade organizations, energy policy and, of course, international security.

It was particularly important that the Russian side confirmed its obligations in the electricity sector to provide uninterrupted and stable supplies to European Union countries. For its part, the EU formalized its commitment to invest in Russia and transfer modern technologies. The energy dialogue is expected to continue in this manner.

EU participants at the summit paid serious attention to Medvedev's initiative on European security. His proposal for a new EU-Russian security pact proposal is very timely. Neither the Organization for Security and Cooperation in Europe, NATO nor the EU itself can single-handedly resolve a number of pressing issues related to crisis management, nonproliferation and the fight against international terrorism. As Medvedev said, we live in one big, common home and we all, without exception, carry responsibility for keeping it in order. His approach was supported by all the summit participants.

The Khanty-Mansiisk summit was not only an opportunity to monitor key EU-Russian economic issues and prioritize challenges of the 21st century, it also demonstrated one important thing — that the EU needs to become more active in its partnership with Russia. That is our sincere hope. If the EU can overcome its Russophobia, its European egoism and its political double standards created by "neo-reformers" and certain members of the Brussels bureaucracy, it will become a more effective player in global affairs. With this in mind, we told our EU partners that revising the results of World War II is unacceptable. We also raised the issue of providing equal rights to Russian-speaking citizens residing in the Baltic states, as well as the problem of creating barriers for Russian business interests in European markets.

At the same time, difficulties in bilateral relations between Russia and EU countries such as Britain, Estonia, Latvia, Lithuania and Poland should not impede strategic cooperation between Moscow and Brussels as a whole. The strains between Russia and several European countries — and the threat they pose to mutual trust and dialogue in the larger EU-Russia relationship — are a large concern for the top EU leaders. They understand as well as we do that without trust and a constructive dialogue, it will obviously be difficult for us to move forward.

The EU's sense of its own identity depends largely on its relations with the United States, China, India and, of course, Russia — a country with a new political, economic and technological direction and one that has decisively chosen the path of reform, democracy and respect of human and civil rights, as Medvedev has repeatedly stressed.

At the summit, both sides expressed their commitment to continue negotiations on the future accord on strategic partnership. Although several EU members, including Poland, Lithuania and other new EU recruits, did not initially support this initiative, in the end they signed off on the declaration to pursue this partnership. It is extremely important that this process be continued in the coming months and that the final partnership agreement become the foundation for healthy, productive and mutually beneficial EU-Russian relations.

RBTH dossier
Vasily Likhachev, formerly Russia's ambassador and permanent representative to the European Union in Brussels, is the deputy chairman of the International Affairs Committee in the Federation Council.


All rights reserved by Rossiyskaya Gazeta.