Russian tycoon Roman Abramovich quits as Chukotka governor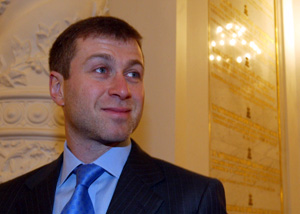 Russian President Dmitry Medvedev has signed a decree accepting Abramovich's resignation. No reasons for the decision were reported. Chukotka governor since 2000, Abramovich, 42, has been credited for lavishly investing in the sparsely populated Chukotka autonomy, a gold and coal-producing region about two times the size of Germany.

Media reported earlier that Abramovich, who mainly resides in London, had been keen to resign for some time, including in 2006 and pledged to continue investment programs in the region, but then president Vladimir Putin insisted he stay. The businessman is ranked the country's second richest man by Forbes magazine with an estimated $23 billion. Abramovich's business interests include steel plants and coal companies in Russia and abroad. In the West, he is best known as the owner of Chelsea soccer club.

Abramovich docked his luxury yacht near the cruiser Aurora during an international investment forum in Russia's second city St. Petersburg in June. He was also reported to have paid troubled British singer Amy Winehouse, a recovering crack addict, around $2 million to perform at the opening of his girlfriend's art gallery in Moscow.

The president has appointed Roman Kopin, 34, former deputy governor overseeing industry and agriculture, as acting governor of Chukotka.
All rights reserved by Rossiyskaya Gazeta.