A New Day for Family, Love and Fidelity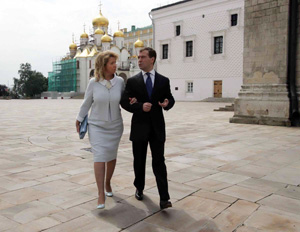 The first lady, Svetlana Medvedeva, is heading up the organizing committee for the holiday, which has been endorsed by the Russian Orthodox Church. She even chose the official logo, a daisy. As part of the celebrations, Muscovites will be able to test out a bench designed to bring quarreling lovers back together, while couples married for more than 25 years will be awarded medals.

The holiday - which is not an official day off work - was introduced as part of the current Year of the Family, aimed at improving the country's troubling demographic situation. And while it is "not at all compulsory" to celebrate the occasion, a total of 25 regions are holding events, said Tatyana Shumova, deputy head of the organizing committee.

Medvedeva "was the first to support the idea, and even created it," Shumova said. The first lady won't be in Russia for the celebration, however, as she is accompanying her husband at the G8 summit in Japan.

The holiday falls on the Russian Orthodox saints' day of Pyotr and Fevronia, who are seen as ideal examples of happy married life. Pyotr, a nobleman, married Fevronia, a peasant girl, in the 12th century. The couple died on the same day and were buried separately, but their bodies are said to have miraculously reappeared in one coffin. They were canonized in the 16th century, and pilgrims visit their relics in the Vladimir region to pray for a husband or wife.

Posters went up around Moscow last week showing an icon of the saints with the slogan: "A family is a union of thoughts and actions." A message of support from Patriarch Alexy II was posted on the Russian Orthodox Church's web site last month. "Today, there is a real risk of the physical extinction of Russia," he said, addressing the need "to revive the desire for fatherhood and motherhood in people's hearts."

The holiday's organizing committee includes Metropolitan Kirill, a leading figure in the Russian Orthodox Church. "Of course, it's a good idea to hold this holiday, which will help family values take root in Russia," church spokesman Father Georgy Ryabykh said. He stressed that the new holiday is a secular one, running in parallel to the religious one. "It's a different holiday, with a different name," he said.

The leaders of Russia's other so-called traditional religions released a statement of support in June. The Russian Orthodox Church's more devout followers may have to put off making an immediate contribution to the improvement of the country's demographics: The saints' day comes in the middle of an Orthodox fast, when the strictest believers abstain from sex, as well as from meat and alcohol.

In Moscow, the program included the opening of a bench designed for two, whose sloping seat draws couples into an affectionate embrace. The bench was to be unveiled at 3 p.m. Tuesday next to Luzhkov Bridge, near the Tretyakovskaya metro station. Celebrations also had been held in Kolomenskoye, Tsaritsyno and Kuzminki parks, and at the Moscow Zoo.

Couples who have celebrated their silver wedding anniversaries and are "ideal families" will be awarded specially designed medals in ceremonies across the country, Shumova said. The holiday should prove popular with young people, too, organizers believe. "It's totally obvious that young people will support it," Lyudmila Guseva, head of the City Hall department for youth and family policy, said in e-mailed comments. "Our young people have ideals of fidelity, love and a strong family. And the holiday carries that meaning."

The committee is creating a web site, to open after Tuesday's holiday, where people can get advice from parents and psychologists, Shumova said. The new holiday has yet to be picked up on by commercial firms. "Unfortunately, we haven't prepared anything since it's a new holiday," a spokeswoman for Novaya Zarya perfumers said. A spokeswoman for United Confectioners said no special promotions were planned, "but in the future it's possible." "I don't think people are used to the holiday yet, since it is the first time," said a woman selling flowers in a kiosk near the Novy Arbat. "I don't think we will sell much more than usual, not like for March 8 [International Women's Day] or St. Valentine's Day."

The day comes amid hostility toward St. Valentine's Day by the Russian Orthodox Church and lawmakers, who see it as an alien import. State Duma deputies are examining proposals to outlaw celebrations of St. Valentine's Day in schools.

It also comes as authorities embrace conservative values on issues such as family planning. In 2005, City Hall placed ads in the metro saying condoms don't offer complete protection and advocating staying faithful to one partner. In the Krasnodar region, events include a week when women will be encouraged not to have abortions except for medical reasons, Radio Liberty reported. "It's great. We would only welcome that," said Ryabykh, the Russian Orthodox Church spokesman. "It's great that society takes that attitude." Women have a right to abortion under Russian law, but the church opposes it unless the woman's life is in danger.

It's not the first time officials have set aside a day for improving Russia's demographic situation. Last year, the Ulyanovsk Governor Sergei Morozov introduced a Family Contact Day on September 12, with the slogan: "Give Birth to a Patriot on Russia Day." The aim was to conceive babies who would be born on June 12, the Russia Day holiday.


All rights reserved by Rossiyskaya Gazeta.