Potanin to Lead Norilsk Board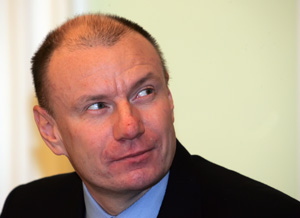 New board member Oleg Deripaska, who voted in absentia, and two other RusAl representatives on the board backed independent member Guy de Selliers for the chairman's seat.

"The situation at the company right now is difficult, but I am ready to work constructively with the representatives of all shareholders," Potanin told journalists at a briefing after the 5 1/2 hour board meeting.
Norilsk Nickel, the world largest nickel and palladium producer, ended up as something of a battleground for a struggle between longtime business partners Potanin and Mikhail Prokhorov.
The struggle ended with Potanin holding 30 percent of Norilsk shares, while 25 percent went to RusAl, which bought its stake in a drawn-out negotiation process with Prokhorov.
Prokhorov, who received a 14 percent stake in RusAl and cash for his stake in Norilsk, backed Potanin in the vote for chairman.
The new CEO, Batekhin, will take over from current chairman Denis Morozov on July 18.
Morozov, who himself called for the vote on whether he should keep his post to "verify his understanding of the company's strategy under the new shareholders," looked visibly confused and upset after falling short by one vote.
"I don't know whether I will continue my career in the metal industry," he told The Moscow Times after the meeting. "I am grateful to fate for having had the opportunity to work in the company. I grew up here - realized myself as a manager." De Selliers, Deripaska, Prokhorov and Bulygin all voted for Morozov.
Neither Potanin nor Morozov talked Monday about possible disagreements between them.
Batekhin has overseen Interros' mining business for the last three years.
"Due to certain features of his character, he will be able to cope better in a company where a number of questions remain unresolved," Potanin said.
Batekhin said he saw his primary goals as ensuring a smooth handover of company management and Norilsk's organic growth. Potanin said the board would discuss strategy, which wasn't addressed Monday, in depth at the next meeting, on July 18.
All rights reserved by Rossiyskaya Gazeta.