U.S. Businesses Discover Tver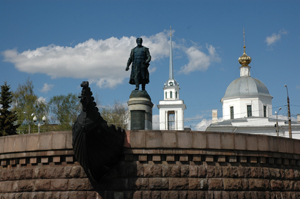 The Afanasy Nikitin monument in Tver, his native city on the Volga. A 15th century merchant and explorer, Nikitin was the first Russian to visit India
Only one of the 50 foreign companies operating in the Tver Region is American. Why is this the case? What is it that German, Finnish, British, French and other business leaders know about Tver that Americans do not?

Vladimir Slepnev, a representative of the Tver regional government, took part in the U.S.-Russian Trade and Investment Opportunities Conference in San Francisco in late June to help attract American capital.

"So far, the United States is only represented in the Tver Region by one company, Hamilton Standard, making aircraft cooling systems," Slepnev said. "There have been other attempts to make contacts with American partners, but they were mostly unproductive. We need to understand why."

The Tver story is reflective of the general situation with American FDI (foreign direct investment) in Russia, which accounts for a mere 16.4 percent of the total volume.

Problems hindering broader contacts include red tape and corruption, insufficient guarantees of investor rights, discrepancies between legal systems and differences in mentality, the forum participants said.

All that is certainly true, but companies from other countries manage to cope with the problems, invest in Russia and gain healthy profits. Why are American companies more sensitive to difficulties in Russia's investment market than others?

Agreeing with their colleagues' criticism, many Russian participants in the San Francisco forum pointed out that U.S. businesses were very conservative and quick to form stereotypes: if they failed in one region of a country, they believed it unlikely to succeed anywhere else. However, like the U.S., Russia is actually a very diverse country, and one region certainly cannot speak for the entire nation.

"We have designed a regional investor support system," Slepnev told the forum. "We provide information support, which involves start-up procedures, tariffs, suppliers and infrastructure; financial support including tax and loan breaks; administrative and even personnel support. Still, potential American investors are sadly ignorant of all that."

The two countries' history of economic cooperation has seen periods of decline in the past, but there are also many success stories, from Pepsi and Coca-Cola, which have become legends in Russia, to auto, aircraft and IT companies.

Adobe Systems is one of the most recent, and most eloquent, examples of success. It took part in the San Francisco forum along with other U.S. businesses. Unlike other major American businesses, Adobe only recently emerged on the Russian market. It opened an office in Russia two years ago.

The head of Adobe's Russian office, Pavel Cherkashin, said Russia had become the fastest growing market for Adobe. In January 2008, the company signed an agreement to supply Adobe software to all Russian schools, where it will be installed on one million computers.

Cherkashin spoke with genuine enthusiasm about the support and training centers opening in the country. His presentation was a solid success story.

The organizers, including the Russian Managers Association, the Russian Chamber of Commerce and Industry and the San Francisco Global Trade Council, deserve credit for the useful experience.
All rights reserved by Rossiyskaya Gazeta.