Russia Director Creates Hollywood Blockbuster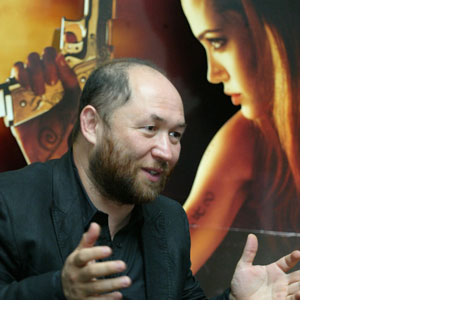 You are the first-ever Russian director to make a blockbuster in Hollywood. Were you intimidated by the challenge?

I set sail in the Hollywood sea carelessly, with no idea where my ship would take me. It was breathtaking excitement and panic all in one.

What was it like working with Hollywood stars?

I had no idea how hard working and conscientious they could be! They don't just come, play a scene and leave - they never leave the set even if they are not working.

Does this include Angelina Jolie?

Sure! We became friends very quickly. I went to New Orleans and we talked about her role over dinner; a week later, she accepted. At one point, we had to shorten and rewrite the script, and I needed a high-profile partner to review my changes. Angelina did it for me. She reminds me of a heroine in Russian classical literature, with her winning combination of self-sacrifice and resolution.

What is it like to work with a huge Hollywood budget? Does big money make one carefree, or is it a burden?

I didn't know the precise budget, to be honest. At any rate, I did what I wanted, and then tried to persuade the producers and the cast to see things my way. Universal Studios practically allowed us to do everything we wanted. When we said we would like to be closer to Moscow and to the Russian computer graphics studio that worked on the film, we were allowed to shoot the American city scenes in Prague.

What are special effects to you: a flight of imagination or mere computer tricks?

I need special effects to express the drama of the film. They are not mere tricks to me. My heroes' superhuman gifts and fantastic transformations are metaphors for their mentality. All the effects in "Wanted" were made at the Bazelevs Studio in Moscow. The resulting animation helped us see what the film would look like, and helped motivate the studio to take an interest in it.

Big money is now flowing into Russian cinema, and there have been some costly productions. Do you believe Russia will ever be on par with Hollywood?

Why not? I will definitely make my next movie in Russia. I want to do something that the whole world can appreciate. Don't think only American movies can be distributed on such a grand scale and have a same-day global release. A Russian film can be just as successful. I think we're up to the challenge.

What do you think of your success? Did you ever expect it?

I never thought I would get to Hollywood. I liked my job and was quite happy in Moscow when this opportunity came up.



Biography


Timur Bekmambetov was born in Kazakhstan on June 25, 1961. After moving to Moscow, he gained popularity as the producer and director of an award-winning series of advertisements for Imperial Bank. Bekhmambetov's first blockbuster, "Night Watch," came out in 2004 and was followed by a sequel two years later.

Released in more than 20 countries, "Wanted" collected $84.1 million on its first day. The U.S. debut grossed more than $51.1 million. Russian returns were $10.8 million in four days, the best ever for a Universal Pictures release.
All rights reserved by Rossiyskaya Gazeta.