A Window to Investing in Russia's Future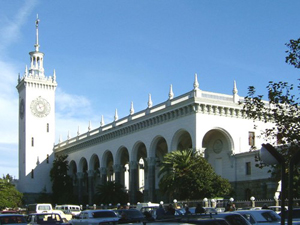 The Forum is sponsored by the president of the Russian Federation and organized by the Economic Development Ministry, Foreign Ministry, Ministry of Regional Development, Office of the Presidential Envoy to the Southern Federal District, Russian Chamber of Commerce and Industry, and the Krasnodar Regional Administration.

Since 2002, the Sochi Forum is seen as an important venue for officials, businesspeople and experts from Russia and other countries to discuss modernization, investment and the development of the Russian economy.

In 2007, the number of participants and countries involved more than doubled compared to 2006 - from 4,000 to 10,000 people, and from 14 to 36 countries. The Forum's organizers are confident this trend will continue in 2008. In a survey of forum participants, 82 percent said it had lived up to their expectations and 62 percent said they would return to Sochi in 2008.
At Sochi-2007, some 1,200 investment projects worth over $16 billion were presented from the Krasnodar Region. As many as 132 investment agreements worth $17 billion (455 billion rubles) were signed at a companion investment fair. Infrastructure projects dominated the investment program, and companies wishing to get involved included Allied Business Consultants (Abu Dhabi, UAE), the International Hotel License company S.A.R.L. (a 100 percent subsidiary of Marriott, Washington, D.C.), Kempinski (Geneva, Switzerland), Von During Management AG (Lucerne, Switzerland), Attleborough Holding Limited (Nicosia, Cyprus), Demirsu Insaat Turizm A.S. (Turkey), Raven Russia (London, United Kingdom).

More good news came in September 2007, when international ratings agencies (Fitch Ratings, Standard & Poor's and Moody's Investor Service) gave the Krasnodar Region a stable long-term rating in foreign and national currency.

In a prelude to the Olympic Games, the city will be looking for investment proposals to develop its transportation, communications and tourism infrastructure. In 2006, the "Federal Program for the Development of Sochi" as a mountain resort for the years 2006-2014 was adopted in Moscow. According to Leonid Tyagachev, President of the Russian Olympic Committee, more than $20 billion will be invested in construction and preparation work alone, with around half of that sum coming from private sources. "International construction companies are prepared to invest in hotels, restaurants, recreation areas, sports facilities, railways and ports in Sochi," he commented.

But the Forum is not just an excellent chance to see investment opportunities in the Krasnodar Region; delegations presenting investment opportunities in other parts of Russia are also regular participants.

To know more click here www.forumkuban.com/kk1.shtml




What are the prospects and problems faced by foreign investors in Russia?


Arnaldo Abruzzini

Secretary General, Association of European Chambers of Commerce and Industry


While the opportunities presented by the Russian market are enormous, the attitude of Western businesses, particularly among small- and medium-sized entrepreneurs, remains skeptical. This is not unfounded: much of Russia's foreign investment occurs near the state level, with large corporations and large contracts in a dominant position. In Europe, however, economic development is largely based on small- and medium-sized enterprises (SMEs). That is the sector on which both sides need to focus, as it presents new dimensions and opportunities for doing business together.

Another problem is the fact that entering the Russian market can be very difficult for SMEs because of overwhelming bureaucracy and a lack of transparency among state institutions. SMEs don't enjoy the same resources as large corporations for dealing with such issues.

Despite these barriers, European business is quite enthusiastic about entering the Russian market. This enthusiasm, however, depends above all on Russian enthusiasm for attracting investment. Thanks to several government initiatives, Russians have recently become much more open to investments, and Europeans reciprocated by showing an interest in exploring opportunities in Russia.


Grigory Petrov

Vice president, Russian Chamber Of Commerce and Industry

I can safely say that the Sochi Forum is attracting more Russian and foreign businesspeople with every passing year. We are gradually moving away from general discussions on Russia's investment climate and focusing instead on specific investment projects.

I want to emphasize that the Forum's organizers have gradually added an international dimension. While the Forum traditionally involved European delegations, last year we greeted visitors from China and South East Asia for the first time.

Last year, Forum delegates came largely in connection with preparations for the 22nd Winter Olympics, due to be held in 2014. I am convinced that this year's delegates will consider the event a vantage point for entering the Russian market, rather than as a prelude for joining Olympic projects.

In 2007, we polled potential Western investors and those already operating in the Russian market. The latter believe that their operations in Russia are quite promising. And although outsiders displayed profound knowledge of the various myths surrounding life in Russia, even they did not deny the fact that the local market had a future.

Of course, red tape and corruption have a major negative impact on business. The situation is aggravated by inadequate competition in a market dominated by monopolies. Nevertheless, we are gradually solving these problems and creating effective mechanisms for guaranteeing the security of investors and their capital.




All rights reserved by Rossiyskaya Gazeta.