Coca-Cola's New Boss Heads East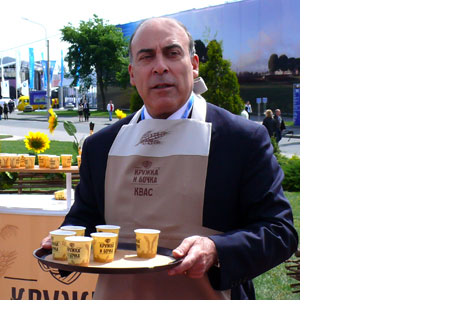 Preferences have changed considerably since these early beginnings, and Russian consumers now face a plethora of choices when it comes to drinks (both alcoholic and non-). One company that has tried to maintain pace with the changing times is Coca-Cola, which made its debut in Russia at the 1980 Moscow Olympics and has been rapidly expanding since.

"Even during the height of the financial crisis in 1998, we never considered pulling out of the business or scaling down our investments," explained Coca-Cola CEO and President Muhtar A. Kent. "We've invested $1.8 billion in Russia since the early 1990s; this figure will increase to $3 billion in the next 3-5 years," he added.

With a broad smile and sturdy build, Kent is eager to impress with his skills as a diplomat and internationalist. Named after his great uncle, Turkey's first ambassador to the United States, he is fluent in English, Turkish, French and Italian. He spent his younger years at elite schools in Turkey and the United Kingdom. In his free time, Kent prefers touring supermarkets in the countries he visits to judge the local reaction to Coca-Cola's products.

Originally joining the company more than 28 years ago, Muhtar Kent led the Coca-Cola's operations in Turkey, Central Asia and Eastern Europe. After a six- year stint at Efes Beverage Group - during which the company experienced triple digit revenue growth and a 250 percent increase in market capitalization - Kent returned to Coca-Cola in May 2005 and was appointed CEO of the company on July 1, 2008 at the age of 55.

In Russia, times were not always easy. Former company CEO Neville Isdell, who was succeeded by Kent, described Coca-Cola's original foray into the `Wild East' earlier this year: "By 1991...we decided we were going to build a brand new, state-of-the-art production facility in Moscow...[but there were] a few `small' problems: foreign companies couldn't own land in Moscow. They had no idea, nor concept, of what the leasing of land was."

The problem was not only with land. "Eight approvals, three weeks of talks dealing with two city governments...11 meetings really discussing the same thing until we got to one special decree, which allowed us to do business...but then five more local approvals. Then they said, `No, we need to look at it all again.' We'd need another seven different local approvals. [It was] good for the lawyers," Isdell explained. However, the efforts eventually paid off and both Isdell and Kent are jubilant about the company's decision to invest in Russia. The Moscow factory opened in 1994 and was followed by another 10 production facilities within three years. In one instance, Coca-Cola flew in an enormous Ukranian-made Antonov cargo plane from Atlanta to transport an entire bottling line to Vladivostok (located in Russia's remote Far East). The company successfully marketed its product in outdoor kiosks, which were made in a factory that had previously manufactured SS-20 missiles. In 1995, Coca-Cola University unveiled its Moscow campus.

Today, Coca-Cola employs more than 10,000 people in Russia. Kent argued that by the so-called "multiplier effect" of job creation, they are responsible for somewhere between 70,000 to 100,000 new jobs in Russia.

Coca-Cola's success in Russia and other foreign markets, on which it largely relies for growth, is in no small part due to Kent's studious work ethic. Discipline was instilled in him at a young age when he was the son of a diplomat, and today Kent begins every workday at six or seven, and doesn't go home until after 11 that night. He is gregarious and natural in conversation, but his focus and determination are obvious. At six foot one, he is an imposing presence at social events, and he partially attributes Coca-Cola's success in the Russian market to his now-renowned stubbornness.

Recently, Coca-Cola began marketing its own brand of kvas, a traditional Russian drink made from fermented bread, under the name "Kruzhka i Bochka" (Mug and Barrel). Following years of isolation from the outside world, the 1990s brought a new craze to Russians - fascination with anything foreign-made. This was a boon to beverage giants like Coca-Cola. Now, however, Russians are demanding locally oriented products, and Coca-Cola is eager to oblige.

"A couple of years ago we bought a leading local juice company called `Multon,' and we now have the number one juice brand in Russia, `Dobriy.' It's one of the best experiences we've had," explained Kent in a recent interview.

But there is a catch: Coca-Cola is downplaying its role in the production of kvas. At the official presentation of the new drink last month, company spokesman Vladimir Kravtsov explained: "In our television ads, we don't mention that the kvas is made by Coca-Cola." Company officials worry that Russians won't buy the domestic drink from a Western distributor (patriotic feelings abound). But even this is nothing new for the CEO who once gained fame in his native Turkey for stalking ordinary customers in supermarkets and prevailing upon those who purchased competing brands to sample his company's products.

Kent remains optimistic about Russia: "It's a booming business, it's a booming market, and one that has completely transformed itself during the last 20 years. I used to visit the Soviet Union in the late 80s, and can say with confidence that it's become modern, innovative and has acquired a wide portfolio of juices and beverages, including sports drinks, energy drinks and, of course, sparkling beverages. We feel very confident about where our business is today."

Kent was one of the foreign CEOs invited to the recent St. Petersburg Economic Forum, where he met with Russia's new president, Dmitry Medvedev. "We had very frank, very open discussions with the new, young, leadership of Russia, and I think we all came away feeling very good about the future of this country," Kent recalled.

BIOGRAPHY
Born
Dec. 1, 1952 in New York
Civil status
married, two children

EDUCATION
B.S. in economics, Hull University
M.S. in Administrative Sciences, London City University

After college, Muhtar A. Kent went on a roadtrip across California. The experience convinced him to pursue his life in the United States, and he joined the Coca-Cola Company in 1978. Kent rose to the position of General Manager of Coca-Cola Turkey and Central Asia by 1985. From 1989, he served as Vice President of Coca-Cola International. In 1999, Kent was wooed by Efes Beverage Group in his native Turkey. He would return to Coca-Cola six years later under the promise that he would be considered for the firm's top job.
All rights reserved by Rossiyskaya Gazeta.