Aircraft are the best seller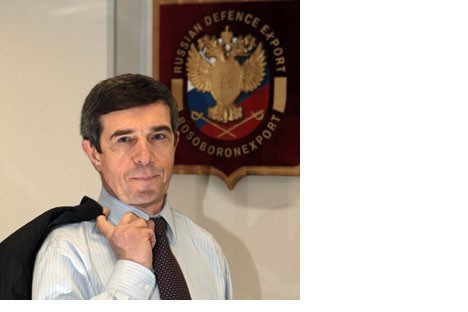 What countries do you supply arms to?

Rosoboronexport supplies weapons to more than 70 countries. In the past, most of our deals were with India and China (up to 80pc), but now we are exploring other markets. In 2007, the top 10 importers of Russian weapons, in addition to India and China, included Venezuela, Algeria, Iran, Egypt, Malaysia, Vietnam, Kazakhstan and Syria.

A number of Latin American countries - Mexico, Peru, Colombia, Brazil and Cuba - have signed contracts with us. Chile, Uruguay and Ecuador are offering good prospects. Vietnam, Indonesia, Malaysia and the Middle East continue to be our partners. In North Africa, Algeria is looking to deliveries from Russia, and Morocco has concluded contracts.

It looks like you have problems only in Europe.

Europe became difficult after the collapse of the Warsaw Pact. But even there we have scored some successes. Croatia has recently taken delivery of the last shipment of 10 Mi-171Sh helicopters. Our defence industry continues to adapt its export specifications to Nato standards. Greece has bought Russian surface-to-air missile systems, although many European governments turn down our proposals for political reasons - pressed by their global allies or influenced by biased alliance thinking.

What do you sell, and how much?

At the top of the list, as before, are aircraft, which account for half of all sales. They are followed by naval equipment and armaments for ground forces. Air defence weapons are in high demand, which is understandable: wars begin with air bombardments and unless the country's key industrial and military centres are protected against aircraft or cruise missiles, the rest does not matter.

Military-specific products are one of the top five Russian export commodities, behind gas, oil, ferrous and non-ferrous metals. Moreover, it is the only hi-tech segment of Russian exports that meets world standards.Rosoboronexport's order book currently amounts to $20bn, which is enough to keep the defence sector busy for the next five to seven years.

What is Russia's rating as a weapons exporter?

A report by the Stockholm International Peace Research Institute (SIPRI) for 2007 placed Russia second, following the United States. We agree with this assessment, although we disagree with the way it calculates our prices and costs. According to another source, a US Congressional commission, the US accounted for 36pc of world earnings from arms sales, and Russia 28pc, well ahead of Germany and France (11pc and 6pc, respectively).

Aren't you going to set a record this year?

Rosoboronexport keeps increasing its arms supplies all the time. In 2000, it supplied about $3bn worth, while last year's figure was $6.1bn. No other country has posted such growth rates in military-technical cooperation. I think in 2008 we will do better still.

Military expenses have reached a world high. What do you believe is the cause?

In 2007, for the first time in history, global military spending reached the astronomical figure of $1,339bn. The US accounted for almost half of that sum, because of its military operations in Afghanistan and Iraq. American, Middle Eastern, Asian and African countries also spend heavily on defence, prompted by growing external and internal threats, improving economic standards and a wish to buy better weapons or re-arm. Europe, on the other hand, where many countries already have modern weapons, did little to increase military spending.

What is the outlook for the next few years?

The situation is easy to predict. The annual volume of the world arms market is $45bn to $50bn. Between now and 2015, about 1,100 aircraft will be produced in the world annually, including 350 to 450 combat and combat training planes, and more than 500 military helicopters. The capacity of the world aircraft market is estimated at $22bn to $24bn a year. Annual global sales of naval equipment will be worth $20bn, with export and import operations accounting for $9bn. Demand for air defence weapons will not change much and will account for 15pc to 20pc of the world market, or $5 to $7bn.

In ground armaments, we expect a slight increase in the demand for light armoured vehicles - up to 800 units a year, and artillery systems - up to 600 units. The demand for tanks will remain the same - 450 units. Importing countries will spend $8bn to $10bn on this equipment.

Why is joint development and production of weapons replacing sales and purchases?

You can count on the fingers of one hand the countries that are capable of singlehandedly producing the full range of military equipment - from hull and engine to weapons and electronics. The growing sophistication of arms makes it more difficult and costly every year. States are beginning to cooperate not only in production, but also development of new weapons. This practice proves cheaper and faster. Examples are the G5 fighter aircraft and a medium-haul military transport plane being jointly developed by Russia and India.

Russia could cooperate with Nato in such promising projects as military transport aviation, precision weapons, robot systems, and remote arms control.

This could result in the growth of the sales market where countries developing or producing arms act together by promoting joint products. India's Defence Minister, Shri AK Antony, recently said his country would cooperate mainly with countries interested in the joint design, development and manufacture of military hardware.

Growing buyer requests are another factor for expanding international cooperation. To meet Malaysia's wishes, avionics from French, German, and South African firms were installed on the Russian Su-30MKM fighter. In fulfilling an Indian order, Russia's T-90 tanks were equipped with French thermal imagers.



Personal profile


Anatoly Isaikin was born in 1946 in Vladivostok and graduated from the Ho Chi Minh Irkutsk State Institute of Foreign Languages.

From 1999 to 2000 he was deputy general director of Promexport, and from 2000 to 2007 he was deputy general director of Rosoboronexport.

In November 2007, he was appointed general director of Rosoboronexport.

He is married with one grown-up son.
All rights reserved by Rossiyskaya Gazeta.