South Ossetian refugees returning home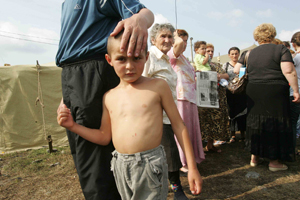 Some 9,000 South Ossetian refugees who fled to Russia as fighting raged in their homeland have crossed the border back into the breakaway republic, a Russian Federal Border Service spokesman said on Monday.

South Ossetia was attacked by Georgian forces on August 8. Russia has said that some 1,600 civilians died in the attack. Moscow concluded its operation to "force Georgia to accept peace" on August 12.

"The border guards have allowed around 9,000 people and 3,000 vehicles to cross the border," Lieutenant-Colonel Sergei Livantsev said.

Earlier on Monday, a deputy head of the Russian Federal Migration Service, Ekaterina Yegorova, said a total of 37,000 South Ossetians had sought shelter in Russia after Georgia's assault on the breakaway republic's capital of Tskhinvali.

Most residents of South Ossetia have Russian citizenship.

The UN refugee agency has said that some 118,000 people were forced to flee their homes in Georgia due to the recent conflict.

Last week, Georgia and Russia signed a six-point French-brokered peace plan aimed at settling the crisis. Russian troops are scheduled to start their pullout from Georgia later on today.
---
Previous articles on the topic:
Russia mourns victims of bloodshed in South Ossetia
Russia's president says operation in Georgia over
Ossetians Say West Is Behind Conflict
Chronicle of the Georgian-Ossetian conflict: Fact sheet
Georgia vs. South Ossetia: roots of a 100-year conflict
All rights reserved by Rossiyskaya Gazeta.