Kremlin Agrees to Troop Withdrawal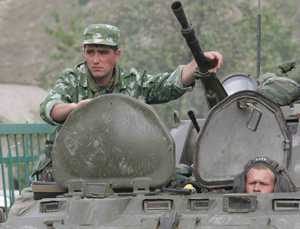 Amid doubts over whether Russia would honor a peace deal it had signed a day earlier, President Dmitry Medvedev said Sunday that Russian troops would start to pull out of Georgia proper on Monday.
Medvedev made the announcement during a telephone conversation with French President Nicolas Sarkozy, who brokered the cease-fire agreement last week, the Kremlin said in a statement on its web site. The statement did not specify whether the troops would return to Russia.

However, despite international calls for withdrawal and the accord signed by Medvedev on Saturday, Russian forces stepped up their presence in Georgia over the weekend. Roadblocks and the destruction of a vital train bridge effectively divided the country into two, threatening supply lines for the capital, Tbilisi.

The Georgian government accused Moscow of finding new methods of intimidating and demoralizing the population. It also said Russian helicopters had started forest fires and that the Russian Air Force had refused to let in Turkish firefighting planes.

Russian troops continued to roam through much of the country's central and western parts Sunday, even as General Vyacheslav Borisov, the Russian commander in the central Gori region, said his troops were starting to withdraw to be replaced by peacekeepers. Borisov also said the peacekeepers would occupy commanding heights around the town of Gori, which is near the border with Georgia's separatist region of South Ossetia.

On Sunday, Russian troops also seized the Inguri hydroelectric power station, which supplies about 60 percent of Georgia's electricity and a considerable amount of the electricity consumed by Georgia's other separatist region, Abkhazia, Anatoly Nogovitsyn, deputy head of the armed forces' General Staff, told reporters. He said Russian forces had acted to secure the power plant from possible sabotage attempts.

Foreign Minister Sergei Lavrov said Saturday that Russia would not pull out from Georgia proper until Moscow was satisfied that security measures allowed under the peace agreement were effective. He also said Russia would strengthen its peacekeeping force in South Ossetia.

Asked how much time it would take, Lavrov responded: "As much as is needed."

Georgian President Mikheil Saakashvili said Sunday that he wanted Russia's withdrawal to be monitored by international organizations, "preferably by EU and OSCE monitors."

Georgian Interior Minister Vano Merabishvili told reporters that a explosion that destroyed the Grakali rail bridge near Kaspi, 40 kilometers west of Tbilisi, on Saturday at around noon was seriously threatening the capital's supply lines. The main highway that links Tbilisi with the Black Sea has been blocked for days at various points by Russian or Georgian forces.

Merabishvili accused Russian forces of destroying the bridge and, asked what he thought was Moscow's aim, said, "They want to demoralize our government and society, and they want to change our government."

Nogovitsyn denied involvement in the explosion. "We are now in peacetime. Why should we be blowing up bridges when our job is to restore?" he said Saturday.

Reuters journalists in the region saw the destroyed bridge and interviewed local villagers, who said men in military uniform arrived by jeep, uncoiled wires and detonated a device remotely. The villagers blamed Russian forces, but the identity of the attackers could not be verified, Reuters said.

French Ambassador Eric Fournier, speaking at the news conference with Merabishvili, said that when he went to visit Gori on Saturday afternoon, he saw a huge Russian battalion, battle ready, on the road east of the town. He said that when he returned later, the troops were gone.

Fournier said the humanitarian situation in Gori was desperate and the remaining population was in urgent need of food. He also said there were reports of pillaging at night. "We were told to leave at 6 p.m. because after sunset people would come down from the mountains [of South Ossetia] to steal," he said.

The information could not be independently verified because all telephone links to Gori have been severed.

Georgian Deputy Interior Minister Eka Zguladze told an earlier briefing Saturday that Russian forces firmly controlled the western Samegrelo (Mingrelia in Russian) and the central Shida Kartli districts. They also had some control of the western Imereti district. "Police are unable to function in many places," she said.

Zguladse accused Moscow of deliberately starting massive forest fires in one of the country's most prized national parks. "Russian helicopters have firebombed the forests of the priceless Borjomi national park at about a dozen places," she said. She said Turkey had agreed to send fire-fighting aircraft at Tbilisi's request but that Russian Air Force fighters patrolling the area had refused to grant them safe passage.

Other firebombs have been dropped around the town of Kaspi, between Tbilisi and Gori, Zguladze said. She said the fires threatened electricity lines and mobile phone infrastructure. "We urgently appeal to the international community to put pressure on the Russian Federation to let [Turkey] deal with this environmental catastrophe," she said.

The weather in Tbilisi was hot and dry at 35 degrees Celsius on Sunday, and the temperature was forecast to climb to 37 degrees by Tuesday.

Georgia's Foreign Ministry said the Russian Emergency Situations Ministry was forcing ethnic Georgians to resettle from the Tskhinvali region to Gori. Several Russian media outlets carried similar reports over the weekend. The ministry had no immediate comment about the allegation Sunday.

Georgian authorities also have opened criminal investigations into South Ossetian leader Eduard Kokoity and his Abkhaz counterpart, Sergei Bagapsh. It was not immediately clear Sunday what charges might be leveled against the two.

Nogovitsyn of the General Staff said Saturday that the Russian military had prevented a group of Georgians from carrying out an attack to block traffic through the Roksky Tunnel between Russia and South Ossetia. Russian forces destroyed one of two vehicles used by the attackers, who fled on the remaining one. Nineteen grenade-launchers and a pack of grenades were found in the damaged vehicle, Nogovytsin said.

Human Rights Watch, a U.S.-based rights watchdog, has joined Georgian and international officials in accusing Russia of excessive use of force during the conflict. The group said Friday that it had collected evidence that Russian warplanes dropped cluster bombs that led to civilian deaths in Georgia.

Nikolaus von Twickel reported from Tbilisi; Nabi Abdullaev reported from Moscow.
All rights reserved by Rossiyskaya Gazeta.