Georgians reject Russian aid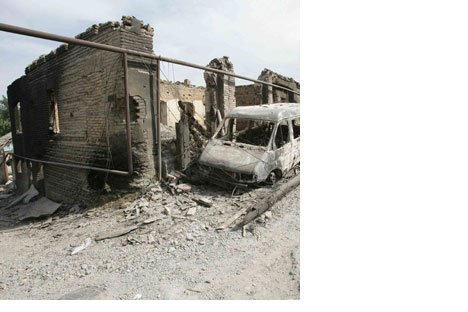 Georgian authorities stated yesterday that Russia is not honoring the terms of its agreement to withdraw its forces from Georgia. Russian Defense Ministry representatives say that Russia will withdraw "at the pace dictated by the situation." Meanwhile, Georgia and South Ossetia are trying to solve humanitarian problems. Antonio Gutierrez, UN High Commissioner for Refugees, arrived in Tbilisi yesterday and promised Georgia aid from the UN High Commission for Refugees. Georgian Minister for Refugee Affairs Koba Subeliani says there are 200,000 refugees from the conflict zone in Georgia, but Kommersant's information indicates that the figure is significantly inflated with residents of Gori, most of whom returned to their homes yesterday. About 100,000 people lived in Gori before the war.
Gori city authorities refused Russian humanitarian aid yesterday. The city's mayor, Vladimir Vardzelashvili, and local priests met the Russian Ministry of Emergency Situations convoy carrying 56 tons of food and informed them that the city of Gori does not need Russian aid. The convoy returned to Tskhinvali. Russian Minister of Emergency Situations Sergey Shoigu later that day complained to Prime Minster Vladimir Putin of Georgian authorities' "disruption" of the humanitarian mission to Gori. The PM replied "Let them take care of themselves."

Humanitarian problems are not yet solved in Tskhinvali. There is no electricity, gas or water in the city, although residents are returning in large numbers from North Ossetia. Many of them have no homes to return to and are staying with neighbors or in tents provided by the Russian Emergencies Ministry. Not all redidents of the city who need the tents have received them yet, however. Returning refugees say they are concerned about their possessions and have heard that compensation for losses in the war will be given out in Tskhinvali first. They say Russian authorities have promised 50,000 rubles in compensation for every destroyed home.
All rights reserved by Rossiyskaya Gazeta.
Get the week's best stories straight to your inbox