Medvedev, tycoons to discuss tax cuts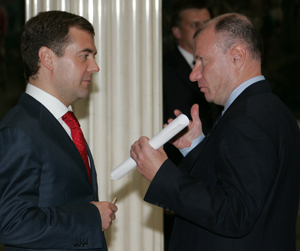 President Dmitry Medvedev said on July 20 that he would meet with Russia's top business lobby in September, while billionaire Vladimir Potanin said the meeting would discuss potential changes to the country's tax system.
Medvedev met with Potanin, a top shareholder of mining giant Norilsk Nickel who is ranked the country's sixth-richest man, in his Black Sea residence near the town of Sochi to tell him that the time had come for the authorities to meet with big business.

"A number of problems have built up. ... We have to talk about the global economy and our economy," Medvedev told Potanin, who said business wanted the meeting to focus on taxes. "We have an agenda. First of all, the issue of taxation, I mean tax reduction and better administration," Potanin said.

"We could also discuss the complicated - I would call it a crisis - situation on international financial markets, which limits access of our companies to financial resources." "Perhaps we could talk about boosting lending inside the country to use part of the generated wealth," Potanin added.

Russian stock markets are down over 30 percent since reaching their peak in May because of global financial troubles and investors' uncertainty about the local climate, which has been soured by a military conflict with Georgia and state attacks on private companies, including Mechel and TNK-BP.

Analysts from Troika Dialog said Wednesday that a new series of tax cuts could be a welcome catalyst for the depressed market. "What is desperately needed now is a catalyst. The only one that we can see at this point is a change in oil taxation," Troika said in written research. "This is now crucial if we are to climb out of the current mess for one simple reason: The market has significantly increased the risk premium on Russian equities," it added.

Russia has amassed nearly $600 billion in gold and forex reserves because of record high global energy and commodity prices, and business leaders regularly call on the government to allow the use of wealth on projects inside Russia, including lending to private companies.

The government's financial hawk, Finance Minister Alexei Kudrin, has so far managed to withstand the pressure and applies a cautious investment approach in triple AAA-rated foreign sovereign and quasi-sovereign securities.
All rights reserved by Rossiyskaya Gazeta.