A little girl and her aunt fight their small private war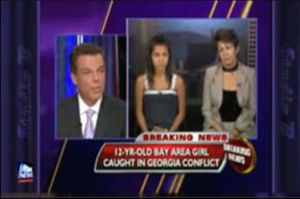 U.S. residents Amanda Kokoyeva, 12, and her aunt Laura Tadeyeva-Koreviski complain of pressure from Fox News during a live interview, when they dared say that the war was unleashed byMikheil Saakashviliand that the Russian Army protected Ossetians from Georgian aggression.
Amanda was visiting relatives in Tskhinvali when hostilities broke out. The city was reduced to ruins before her very eyes. The girl spent a night in a cellar under artillery fire.

Russia's Vesti television channel contacted Amanda and Laura in the United States. Laura Tadeyeva-Koreviski said:

I knew it was a conservative programme and that I would have a minute at most to speak. I agreed to take part only because I knew it was a live broadcast. I wouldn't have if I had known it would be the usual interview - I have had interviews with some local American channels. They haven't shown me the way I'd like.

I had much to say to Americans. When a phone call came from Fox News for an interview, the first thing I asked was "Will it be live?" They said yes. I was taken aback at first, but then I saw it was my only chance to bring Americans at least a part of the truth - I wanted them to get interested and ask questions about what was really going on in South Ossetia and who was the first to start hostilities.

There was no pre-interview before the broadcast. I guess they wanted Amanda to tell her story and then they would give the impression of a child fleeing a battle. Condoleezza Rice appeared on the air while we were waiting, and hostilities in Georgia were shown. There were shots of bombed Tskhinvali when the presenter said it was Gori-but I lived in Tskhinvali up to the age of 16. I know every part of it!

AMANDA. It's surely Tskhinvali-not any other place! You know it! And now they come and say it's Gori!

LAURA. I was afraid to say so on a live broadcast and oppose the powerful Fox News. My nerves were on edge. When Amanda thanked the Russian Army, they interrupted her with a commercial - but I put in: "You don't want to hear it!" So they had to let us speak for another half a minute and I repeated: "Saakashvili is not the man to stay at the helm. I don't have anything against the Georgian nation, but I oppose any government that bombs my native city." The interview was cut to prevent Amanda from saying again that she was rescued by Russian soldiers, and that the Russian military helped her to get out of the city.

There is a large Ossetian community here. I know everyone feels uncomfortable about the situation. Neighbours say to everyone: "Why are these Russians striking poor Tskhinvali again?" Ordinary Americans don't know Georgian geography. They don't know just where we live and who fights whom. They know only one thing - that Georgia is at war with Russia. No one knows who started it or who the aggressor is. Saakashvili appears on every channel nonstop.

Larry King showed Gorbachev instead of Saakashvili on CNN the day after our interview. I am not so proud as to think I caused that. Nevertheless, at least CNN decided to show both sides of the story after the Fox News incident. It is total information warfare. I know the truth from the Ossetians who have been through it all! My friends and my former classmates who have been there, and my relatives who have been through it all, keep calling to tell me.
---
You can watch the fragment of the interview from the YouTube:

All rights reserved by Rossiyskaya Gazeta.