Russia's top conductor leads concert in South Ossetia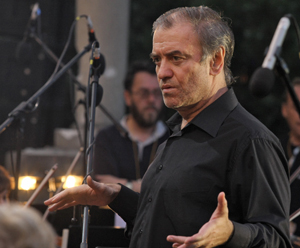 A requiem concert given by the Mariinsky Theatre led by the renowned Ossetian-born Russian conductor Valery Gergiev was held Thursday in South Ossetia's war-torn capital.
The concert took place on the square in front of the destroyed building of South Ossetia's parliament, in central Tskhinvali. Thousands of candles were lit on each shattered step of the building in honor of those who died during the war.

Several thousand people gathered in Tskhinvali earlier Thursday to show support for the appeal to Russia's president and parliament to recognize South Ossetia as an independent state. Gergiev has been an outspoken critic of Georgia's actions during the conflict in its breakaway republic. "I want everyone to know the truth about the terrible events in Tskhinvali," he said before the concert. "We will be performing for you with the hope that nothing like this ever happens again on the Earth."

Georgia launched a major offensive to seize control of South Ossetia on August 8, prompting Russia to send several hundred tanks and thousands of troops into the region. Moscow announced the end of its operation to "force Georgia to peace" on August 12. According to the South Ossetian authorities, total of 1,492 of the province's residents were killed in the attack, while an estimated 37,000 fled into Russia. Most residents of South Ossetia have Russian citizenship. "The world community shivers that Russian tanks entered Georgia, but no one says that thousands of people were buried alive at midnight in the sleeping city," Gergiev said.

"I want us to once again stress that without the help of the great Russia there would have been numerous deaths," he said.
All rights reserved by Rossiyskaya Gazeta.