Russia freezes peacekeeping operations with NATO for 6 months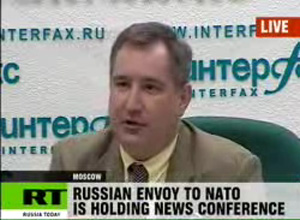 Russia has suspended all peacekeeping operations with NATO for at least six months, the Russian envoy to the military alliance said.
"As the alliance's leadership has ignored the important peacekeeping role of Russia in the Caucasus and South Ossetia we believe it is expedient to suspend all peacekeeping operations between Russia and NATO for at least six months," Dmitry Rogozin said.

However, the diplomat stressed that Russia was not opting out of political dialogue with NATO.

Georgia attacked South Ossetia on August 8 in an attempt to take back the separatist republic, which split from Tbilisi in the early 1990s.
Most people living in South Ossetia have Russian citizenship and Moscow subsequently launched an operation to "force Georgia to accept peace." The operation was concluded on August 12.

Russia's president signed two decrees Tuesday recognizing South Ossetia and another separatist region, Abkhazia, as independent states and called on other countries to follow suit.

"This is not an easy decision, but it is the only way to protect people's lives," Dmitry Medvedev said in a televised address.

Both houses of Russia's parliament voted unanimously on Monday on a resolution asking the Russian president to recognize the independence of Abkhazia and South Ossetia, following requests from the leaders of both breakaway republics.
The move will further worsen Russia's relations with the West, already strained over Moscow's military actions in Georgia.

Rogozin also said Russia had decided to delay sending its chief military representative to NATO.
All rights reserved by Rossiyskaya Gazeta.