South Ossetia and Abkhazia mark first step to sovereignty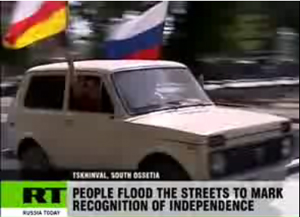 Abkhazia and South Ossetia are celebrating Russia's recognition of their independence - despite being a long way from gaining the international status of sovereign states. Strangers are hugging and praying together, hoping for an end to their frustrations after nearly two decades of longing for separation from Georgia.

Even women have taken their firearms to celebrate and others went to show off their driving skills. People seem united as never before.

"Thank the Lord that we are finally recognised after all this bloodshed and genocide," a local priest said.

The celebrations in both capitals are expected to last for at least a few more days.

"All Champaign and vodka is sold out. Today is a great holiday. Only one bottle remains - it's for us to celebrate!" a saleswoman in a local shop said.

Traditional horns of wine were also dried out at the central square of Tskhinval.

The republics are now looking to an independent future following Russia's recognition of their status and are calling on the international community to recognise them as well.

---
Watch moreabout the joy in Sukhum on Russia today or here:


All rights reserved by Rossiyskaya Gazeta.