SCO supports Russia's role in S. Ossetia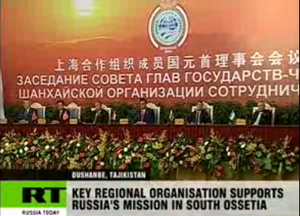 Members of the Shanghai Cooperation Organisation have signed a declaration in support of Russia's peacekeeping mission in South Ossetia. The countries' leaders are holding a summit in Tajikistan on regional security and economic issues.
The declaration is a direct response to President Dmitry Medvedev's call to support Russia's role in the Abkhazia and South Ossetia independence dispute. Speaking at the SCO summit in Dushanbe, Medvedev thanked the SCO members for their understanding and objective evaluation of Russia's peacekeeping mission.

"Unfortunately, we have to state that attempts are being made to secure certain interests using force, not the principles of strict observance of international law and denial of confrontational bloc thinking," said the President.

"A fine example of such irresponsible criminal actions is Georgia's aggression against South Ossetia. It is well-known who connived with the Georgian authorities and even incited them, pursuing their own profit. Such behavior is unacceptable and should be stopped. In such an extreme situation, we remained reserved and continued our responsible and predictable policy.

"We are confident that the position of SCO member states will produce an appropriate resonance through the international community, and I hope this will give a serious signal to those who are trying to justify the aggression that was committed," Medvedev added in his address to SCO national leaders.
---
Watch more about SCO's support Russia's role in S. Ossetia:


All rights reserved by Rossiyskaya Gazeta.