Investment Klondike across the country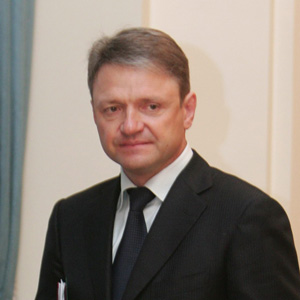 Krasnodar region Governor Alexander Tkachev
Krasnodar region Governor Alexander Tkachev comments on the investment climate in Russia in an interview to Rossiyskaya Gazeta ahead of the Sochi 2008 international investment forum.
Many regional delegations attend the Sochi forums. What do you think about the investment projects of the Russian regions?

The Sochi Forum is organised by Russia's Economic Development and Regional Development ministries. The Krasnodar Region is the host. The Forum is arranged for every part of Russia to present its investment projects and for foreign and Russian investors to find lucrative opportunities, strike deals and... spend a few days at Black Sea resorts.
Many countries' experts share the opinion that now it is high time for investments to Russia. Practically every part of Russia has something interesting to offer. The federal centre gives every region enough room for independent investment policies. The Krasnodar Region was among the first to take advantage of this. Quite recently, it alone represented Russia at international forums. Now we face competition from other Russian regions.

Is there tight competition between Russian and overseas investors?

There are many tools of government economic stimulation today - property tax exemption for three years on priority projects, investment tax credits, and subsidising reproduction costs in the agro-industrial complex and on loans to expand basic production.
The territorial administration makes it a point to reduce investment hazards to a minimum. It is also our principle for government agencies to take responsibility for all the project paperwork. We have streamlined the procedure as much as we can and have also reduced paper coordination terms.
Regarding competition with Russian companies... Of course, they compete. But foreign investors also bring us the latest production technologies and experience, and so boost the development of domestic companies. It is beneficial to all - the region increases budget revenues, while the public gets new jobs and quality goods.

What lucrative investments does the administration offer apart from the Sochi Olympic projects?

The territory has today received more than 1,500 investment proposals, amounting to more than 26bn euros. The recreation, agro-industrial, construction and industrial sectors have top priority. There are many opportunities in other areas as well, and we are looking for trusted partners.

Last year's Sochi Forum resulted in 132 investment contracts. What do you expect this year?

We are determined to keep up the present scope of cooperation with investors. I don't think fewer contracts will be made than last year. This cooperation has come to a higher level. From simple protocols of intention, we are passing to more detailed investment contracts. Recent Caucasian tension should not be a reason to stop economic dialogue. The Russian government has confirmed its intention to provide a "safe haven" for investors.
---
RBTH dossier

Tkachev was born on December 23, 1960. He graduated in 1983 from the Krasnodar Polytechnic Institute. On December 3, 2000, he was elected Governor of the Krasnodar Region with 82,14pc of the vote. On March 14, 2004, Tkachev was re-elected for another term (until March 2009).
---
Heading south: the Krasnodar Region
The Krasnodar Region is part of the North Caucasus economic region. Its capital is Krasnodar. It borders the Rostov Region in the north and northeast, the Stavropol Region in the east and Abkhazia in the south. The southern and western boundaries follow the coasts of the Black and Azov Seas.

The territory's agro-industrial complex is one of the largest in Russia. Other major industries include fuel and energy, engineering, chemistry, tourism and woodworking.

The territory is involved in investment cooperation with more than 60 countries, and 773 companies with foreign capital are registered there.
---

Foreign experts on investment to Russia

Andrea von Knop, Head of the Union of the German Economy in the Russian Federation

"Persistent reform and good tax policy have made Russia one of the most appealing countries for foreign businesses. Thanks to the improvement of the investment climate in Russia, German business people moved from their restrained position to FDI in economy. The SME business community has formed in Russia, and the Russian government actively supports it."


James Turley, Chairman and CEO of Ernst & Young Global, co-chairman of the Foreign Investment Advisory Council

"Foreign direct investments in Russia increase constantly, and FDI continues to grow. Russia recognises the critical importance of FDI, which brings access to new technology, capital for growth, and opportunities to develop new markets. We have established a very constructive dialogue with the Russian government to support their efforts to establish Russia as a preferred investment alternative."

Ernest-Antoine Seilliere, MEDEF president

"Currently the environment for doing business has considerably improved. French businesspeople note that possibilities for working here have been growing. We are optimistic about investments in Russia."

Wim-Hein Pals, Director of Robeco Emerging Market Equities Fund

"Today's Russian economy is fuelled not only by the energy industry. Mobile communications is an excellent example of non-energy economy growth. Certainly, energy prices contribute to an increase of foreign exchange reserve, but there are other attractive possibilities."


Christophe de Margerie, Vice-president of Total

"If we are not able to enter the Russian market, we will not be among the leaders."

Source
National Investment Agency
All rights reserved by Rossiyskaya Gazeta.