A fresh approach to seafood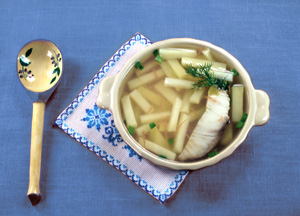 Fishing is popular the world over, but Russia's love for the sport borders on obsession. Go to one of Moscow's frozen ponds on a typical winter's day and you'll see men sitting next to holes in the ice, oblivious to the biting wind and 20-below temperatures as they wait patiently for that telltale jiggle of the fishing rod.

In summer, fishing season hits full swing, resulting in millions of Russians making a ritualistic pilgrimage to their favorite fishing spot, which could be just a few miles from home or all the way at the other end of the country.

While all of this has resulted in more than a few unhappy wives, it has also produced some amazing fish soups, of which ukha is almost certainly the best known and perhaps the most delicious.

True, ukha is meant to be made over a campfire on the banks of a river, using freshly caught fish. However, if the closest you ever get to a river is driving over one on your way to work, have no fear; the soup comes out just as well in the kitchen, despite what those fishermen say. The beauty of this soup, in fact, is that there isn't any hard and fast recipe for preparing it - it's an "anything goes" dish that encourages experimentation. Want to use a bit more potatoes and a bit less green onions? No problem. Think sterlet would go better than salmon? Go ahead and throw it in. Eventually, you will arrive at a formula that's perfect for you. Here's the recipe for a "triple" ukha, so called because it uses three varieties of fish.


Ingredients:

o 6 cups water

o 2 lbs. smelts and perch, or two varieties of any other small freshwater fish; whole, well-cleaned

o 1 lb. salmon fillet, skinned

o 1 carrot, large; peeled and quartered

o 1 celery stalk, with leaves

o 5/8 cup vodka

o 1 onion

o 3 potatoes, new

o 1/3 cup peppercorns

o 2 carrots, peeled

o 1 parsnip, peeled

o 1 bouquet garni
(parsley, thyme, and
bay leaves, tied with
string)

o 5 tbs. scallion, chopped

o 1 bay leaf

o salt, pepper to taste

Preparation:

Place water, small fish, quartered carrots, celery, parsnip, leek, onion and bouquet garni into a large pot and bring to boil, skimming off the foam whenever it rises to the top.

Reduce heat, cover pot and simmer for 35 minutes.

Strain the stock through a fine sieve into a clean pot. Discard solids.

Return the stock to heat and add potatoes and carrots. Bring to boil, then reduce heat to low and simmer, covered, for about 25 minutes (or until the vegetables become tender).

Strain the stock once again into a clean pot, discarding all solids except potatoes and carrots. Rinse potatoes and carrots and set aside.

Add fish fillets to the stock and poach over medium low heat until cooked through (approximately 5 minutes). Note that while this particular recipe uses salmon, any type of freshwater fish can be used (variations include sturgeon, trout, cod and carp).

Taste and adjust the seasonings. Cut extra potatoes into wedges.

Add bay leaf and peppercorns.

Add vodka a few minutes before turning off heat.

Dice carrots. Ladle the stock into bowls, adding a few potato wedges and diced carrots into each bowl.

Sprinkle with scallions and serve.
All rights reserved by Rossiyskaya Gazeta.