Putin touts economic ties with Asia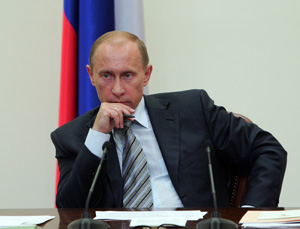 Prime Minister Vladimir Putin traveled to Vladivostok, in the country's Far East, on Monday to tout Russia's ties with Asia as a counterpoint to its diplomatic dispute with the West over Georgia.

Putin used the visit to urge ahead preparations for the Asia-Pacific Economic Cooperation summit to be held in Vladivostok in 2012, appointing First Deputy Prime Minister Igor Shuvalov to oversee the stalled work, and to highlight plans to begin shipping oil to Asia next year.

"We are ready, and will offer our foreign colleagues a positive agenda dedicated to developing an economic partnership," Putin said in comments published on the Cabinet's web site. Russia wants to use the event as a springboard for its business ties in the rapidly developing region, he said.

But construction of the facilities and infrastructure for the event - including two large bridges - has not begun, leading experts to question whether Russia will be able to host the summit.

Putin said he had been told that work on the bridges "is supposedly already under way," but that he had not seen it himself. Putin also met with Primorye Governor Sergei Darkin to discuss the preparations, which have been cited as an opportunity to develop the Far East.

"It's important, of course, to hold a major international event, but it's far more important that we use this event as a reason to turn our attention once again to developing the Far East," he said.

Russia is planning to begin supplying Asia with its oil in 2009, a step that would reduce its dependence on Western markets. On Sunday, Putin made a point of visiting the construction site for a sea terminal near Vladivostok that will handle the oil.

Putin wanted to make sure that Russia was making fast progress in reaching out to its Asian neighbors after the diplomatic drubbing by the West, said Boris Shmelyov, head of the Center for Comparative Political Research at the Russian Academy of Sciences.

"The unfolding of this crisis requires a more intensified eastward turn," he said. "Putin discussed the issue there and looked at what steps to take."

The terminal that Putin toured, called Kozmino, will receive oil from Siberia through the East Siberia-Pacific Ocean pipeline, which is being built by Transneft.

Oil carried through the first stretch - the completion of which has been delayed from this year to the end of 2009 - will have to be sent on to Kozmino by rail until the rest of the pipeline goes into operation. A deadline has not been set for completing the remainder of the pipeline.

After inspecting the Kozmino construction site, Putin ordered Transneft to prevent any additional delays, Interfax reported. Rosneft president Sergei Bogdanchikov told Putin at the site that the state oil giant was planning to build a $4.9 billion refinery near Vladivostok by 2013, with another $9 billion to follow to double capacity.

Viktor Mishnyakov, an analyst at UralSib, said Rosneft generated enough cash to finance the construction but that it could hamper plans to upgrade existing refineries that serve the domestic market.
All rights reserved by Rossiyskaya Gazeta.