European press divided over EU summit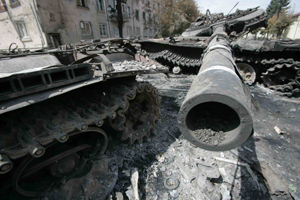 Commenting on the EU summit in Brussels, some newspapers said the results were satisfactory, while others said the summit was limp, reflecting the failure of the EU to bridge different opinions.
The Independent, a UK newspaper, believes: "It will be said that the EU holds a weak hand in relations with Russia, which is in many respects true, but that makes it all the more important not to overplay it. EU membership for Georgia is not something that can, or should, be promised as a political gesture. NATO membership is not within its gift. Approving generous aid to Georgia for reconstruction, on the other hand, and coordinating an aid effort, is something that the Europeans can do."

Business daily Financial Times says: "The EU is acutely conscious of its reliance on Russian energy supplies and of the need for Russian cooperation on issues such as the Middle East conflict and Iran's nuclear programme."

The article said that EU-Russian relations had reached a "crossroads". It added that: "We are convinced it is in Russia's own interest not to isolate itself from Europe. We expect Russia to behave in a responsible manner, honouring all its commitments."

Meanwhile, the German paper Spiegel International describes OSCE reports which suggest the Georgian president deceived his western allies.

"Various ministries in Berlin have started to doubt the credibility of the most problematic friend of the west. Saakashvili, contrary to his own version of events, apparently ordered the attack on South Ossetia before the Russian tanks entered the province from the north via the Roki Tunnel. One source, who is personally familiar with the reports, summarised the findings as follows: "Saakashvili lied 100 per cent to all of us, the Europeans and the Americans." The OSCE reports also indicate that Saakashvili attacked the civilian population while they were asleep in their beds," Spiegel states.
All rights reserved by Rossiyskaya Gazeta.