U.S. warship met by anti-NATO protests in Ukraine's Sevastopol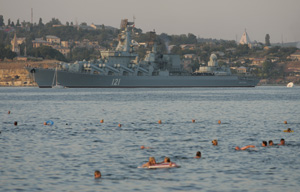 The crew of U.S. Coast Guard Cutter Dallas, which arrived on Monday morning at the Ukrainian port of Sevastopol where Russia has a naval base, has refused to go ashore amid anti-NATO protests, customs officers said.
The Dallas, which recently delivered humanitarian aid to Georgia's Black Sea port of Batumi, docked at the Crimean port on the invitation of Kiev.

The ship was met with thousands of protesters chanting "Yankees go home!" and waving banners with the slogan "NATO Stop!" The area around the ship has been cordoned off by police, with an anti-NATO picket nearby.

Ukrainian customs officers who went on board the ship and met with the commander said the U.S. servicemen are refusing to leave the vessel on foot, but that buses could be provided so they can be given a tour of the city.

Tensions between Russia and the West have been exacerbated by the build-up in the Black Sea of U.S. and NATO naval vessels delivering humanitarian aid to Georgia. In an apparent response, Russia sent a group of warships last week, including the Moskva missile cruiser, to Sukhumi, the capital of Abkhazia.

Russia's Black Sea Fleet uses the Sevastopol base under agreements signed in 1997. Ukrainian President Victor Yushchenko announced earlier this year that Ukraine would not extend the lease beyond 2017.

Yushchenko signed a decree earlier this month requiring prior notice of all movements by Russian naval vessels and aircraft from the Sevastopol base in the Crimea.

The decree is not has not yet come into force, but Russia views it as a provocation and is likely to resist any Ukrainian attempts to restrict the deployment of its navy.
---
Watch video about U.S. Coastguard cutter Dallas entering Sevastopol Harbor
All rights reserved by Rossiyskaya Gazeta.